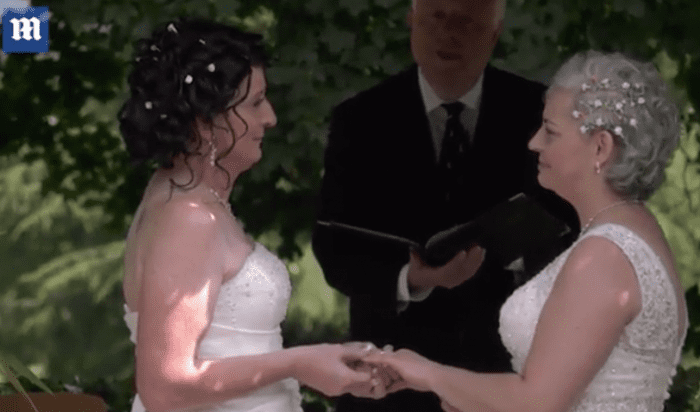 Denise Taylor first tied the knot with Stephen in 1996. In 2012, they renewed their vows.  However, days after that ceremony, Stephen told Denise a big secret.  He wanted to start living as a woman, and he did just that.  The 49 year old man changed his name to Kristiana and started wearing women's clothing as a transgendered person.
Last week, the the couple reconfirmed their marital vows at a small ceremony in Kent.  Present were their 14-year-old son, Stephen, and 60 guests.
 "Fourteen years had passed and on Christmas Eve you bought me a dress – I didn't know you liked it yourself," said Denise.  "You are my love, my life and my wife. Together we stand hand in hand."  In fact, the two both wore wedding gowns.
I had to laugh when I read this piece.  Now that the actual news carries stories like this, who needs Monty Python? This is waaaaay funnier.  (The only thing that could've made it weirder is for the woman to have transitioned to a man, but I'm sure that's going to happen sooner or later.)
Though it's easy to be amused at this spectacle, there's a darker side of transgenderism about which the cultural activists don't want you to know.  Transgendered people have a very serious risk of suicide.  USA Today reports on the trend both in America and around the globe:
Suicide attempts are alarmingly common among transgender individuals such as Lampe; 41% try to kill themselves at some point in their lives, compared with 4.6% of the general public. The numbers come from a study by the American Foundation for Suicide Prevention and the Williams Institute, which analyzed results from the National Transgender Discrimination Survey. Researchers are preparing to launch another version of the online survey on Wednesday.

More than a dozen other surveys of transgender people worldwide since 2001 have found similarly high rates, and the problem has grown more visible since Caitlyn Jenner's coming out raised awareness about transgender health issues overall.
This man pretending to be a woman — and all of his friends coming alongside him in his deception — is just sad.  I hope the world and culture can quit affirming what is obviously not true in an effort to be "tolerant."
Watch a video of the ceremony below:
Image Credit: Screen Cap
h/t Daily Mail