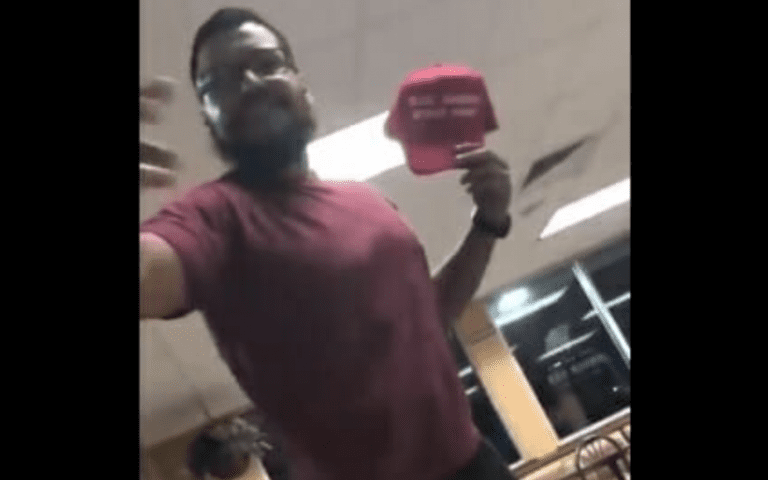 For anyone who thinks that the left isn't going to continue to escalate political violence, please see this story from Wednesday:
Police are investigating after a teen says he was verbally attacked and assaulted at a Whataburger for wearing a Make America Great Again hat.

In the video, you can see a man throw a drink in 16-year-old Hunter Richard's face before leaving the restaurant with his hat. Hunter said some of his hair was pulled during the assault.

"I support my President and if you don't let's have a conversation about it instead of ripping my hat off. I just think a conversation about politics is more productive for the entire whole rather than taking my hat and yelling subjective words to me," he said.

Hunter was with his friends at the Whataburger off Nacogdoches and Thousand Oaks Tuesday night when it happened. They say the attack was unprovoked.
The assailant in the viral video was later identified as 30-year-old Kino Jimenez who worked at a bar called Rumble in San Antonio. However, the owners of Rumble didn't appreciate their part time employee's actions. In a since deleted Facebook post, they wrote:
It came to our attention earlier this evening that a part-time employee was captured on cell phone video assaulting another person at a local eatery. The assault took place, presumably, because this employee did not agree with the other individuals political stance.

We have since terminated this employee, as his actions go against everything that this establishment stands for. Rumble has, and always will be, a bar that is as inclusive as any establishment could possibly be. THIS BAR IS A SAFE SPACE FOR EVERYONE! No matter your race, creed, ethnicity, sexual identity, and political stance, you are welcomed here! We do not condone the actions or behavior that were displayed in the cell phone video, and we never will. If you have any questions or concerns please message us privately. We support and appreciate your business.
If you watch the video — which I recommend — read the comments. While there are lots of supportive ones for the kids, there are also — scarily — lots of support for the thug who attacked them. The New Fascist Democratic Party, led by Maxine Waters, is promoting this kind of thing.
You can watch the attack here:
So went out for a 2am snack and my friend (wearing a MAGA hat) had his hat stolen and a drink thrown in his face (and mine, you can see my arms on the left of the video) pic.twitter.com/B3QjBFIxPk

— Brax
Imagine for one second if this had been a MAGA-hat-wearing Trump supporter who attacked some kid. The video would be on every news channel between now and the next Presidential election — the media would try to convince us this was evidence of conservative's pent up violent bigotry or something. Regardless, it's a sad day in America when a kid can't wear a hat supporting the President on the 4th of July.
Image Credit: Screen Cap
Hat Tip: IJR