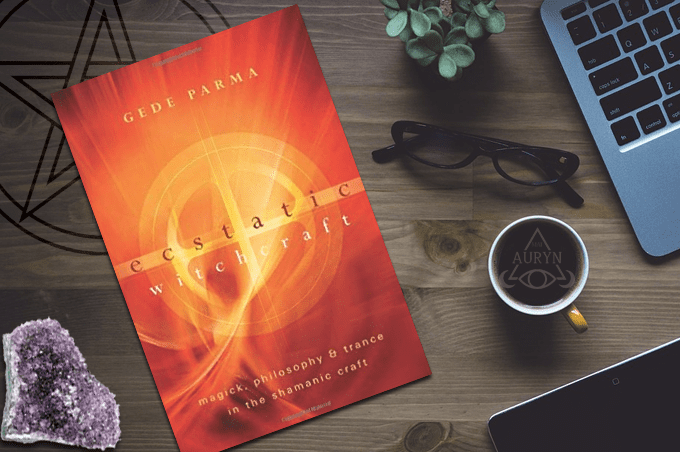 Gede Parma sees witchcraft as an inherently shamanic and ecstatic practice, which I strongly resonate with. In his book Ecstatic Witchcraft: Magick, Philosophy & Trance in the Shamanic Craft he compares and contrasts the practices of witchcraft with that of shamanic traditions in the vein of Emma Wilby's Cunning-Folk and Familiar Spirits: Shamanistic Visionary Traditions in Early Modern British Witchcraft and Magic. However, Ecstatic Witchcraft is written in a much more accessible and easier to follow manner. Unlike Wilby's book, this book is written for modern day practicing witches and is not just a a book that asserts the thesis that witchcraft of the past was a shamanic tradition in a scholarly language, but also focuses on modern witchcraft.
Despite the use of the word 'shamanic', which the author uses in the anthropological sense of the word, Gede is very respectful and cautious of misappropriating other cultures. You aren't going to find a New Age psuedo-Native American practice in this book. Instead Gede unites aspects of Traditional Witchcraft, The Feri Tradition and hints of Wicca and his own unique viewpoints into a non-cultural presentation of the fundamental components that are the basis of ecstatic practices within the Craft of the past and the present. He also provides tips on working with deities or spirits that come to you from other cultures and gives great advice of learning how to work with them in their own cultural context as well as understanding and being clear about working with them outside of that cultural context.
This book is somewhat of a sequel to his earlier book By Land, Sky & Sea: Three Realms of Shamanic Witchcraft but can be read as a stand alone book as well without any difficulty. Gede's writing style is one of my favorites. He is clear, poetic and doesn't unnecessarily overcomplicate the ideas he's trying to present. The book is full of fantastic exercises and practices that are written for the reader to experience states of ecstasy to help empower your craft further. I recommend this book to anyone who wants to strengthen their experiences of personal gnosis, their experiences with deity and spirits and bring depth to their energy work within their magickal practices.
Ways To Support My Work: