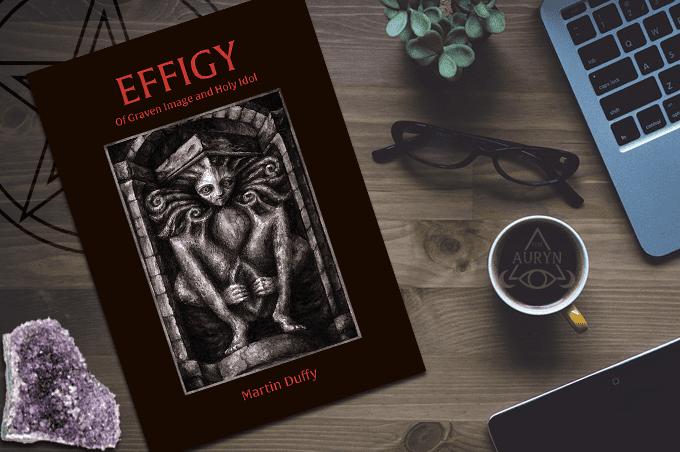 Effigy: Of Graven Image and Holy Idol by Martin Duffy is pretty much the closest thing to a Bible on the topic that I've come across, in fact the book is about the size of those really large heirloom Bibles. I cannot ever possibly imagine a better book written about the subject as the author hits every single possible area on the topic that I could ever imagine or want. Martin Duffy's expertise and scholarly attitude shines through this book without ever becoming overtly inaccessible in his writing style.
Within its pages, Duffy provides the history and folklore of various man-made effigies from idol statues, to poppets, to clay and wax figures, to corn dollies, as well as working with the mandrake root (which is close to my heart), and much more. The book is not only about the history and lore of these items, but is also somewhat of a grimoire in the sense that Duffy explains the gathering of materials, construction and spells and rituals for enlivening of the effigies.
Particularly fascinating was his examination of myths and lore around the world about the creation of man from clay in various cultures, where he then breaks down the formula provided in these myths and shares how they apply to the creation of spirit vessels by the hands of man. Duffy provides the uses of these effigies for healing, cursing, protection, love spells and magical knowledge as well as creating a receptacle for hosting divinity.
The book is fairly large, as stated, coming in at 559 pages and contained within a sturdy hardcover. The book is fantastic quality and full of beautiful artwork, as one would expect from any Three Hands Press book. The illustrations are stunning full color and full page sized by Raven Ebner, which makes this book especially beautiful, even by Three Hands Press standards. The book is worth every single penny and is a must-have in the library of any serious magickal practitioner.
---
Connect With Me


Website | Tarot Readings | Facebook | Twitter | Instagram | Tumblr | Mailing List