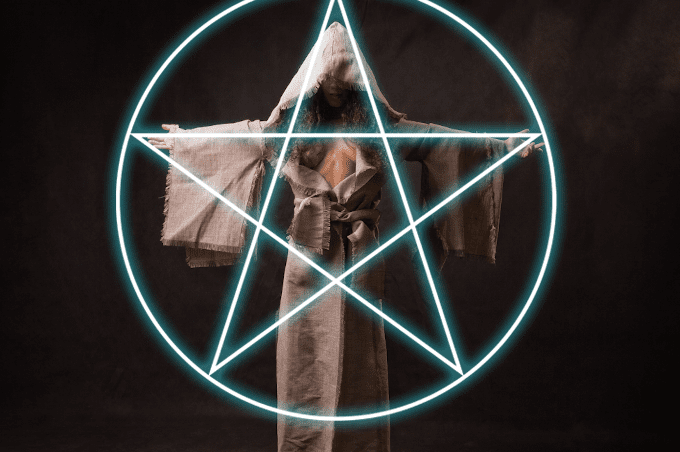 In my book Psychic Witch: A Metaphysical Guide to Meditation, Magick and Manifestation, I explore a few concepts taught in High Ceremonial Magick and provide a few stripped down exercises that are foundational to it in a manner that is accessible to the beginner and helpful for any witch regardless of if they want to pursue High Ceremonial Magick in more depth or not. I truly believe that High Ceremonial Magick, which was a massive influence upon modern day witchcraft, can greatly assist the witch in their witchcraft practices both magickally and spiritually. For those who are curious about diving deeper into High Ceremonial Magick but aren't sure where to begin, I've provided the eight books that I feel are invaluable resources on the topic.
My criteria for these books are that they are beginner friendly, extremely well written, and can specifically assist someone with a witchcraft practice to approach these practices and concepts (whether or not the author is a witch themself). I personally feel having experience and understanding in the foundations of witchcraft are extremely helpful before approaching ceremonial magick, but these books are completely entry-level for those who aren't witches but also aren't sure where to start. These books also help gain a helpful perspective on approaching the Hermetic/Qabbalah magickal arts for those who may be more Pagan leaning and at first resistant to the idea of working with angels or the Hebrew names of divinity.
---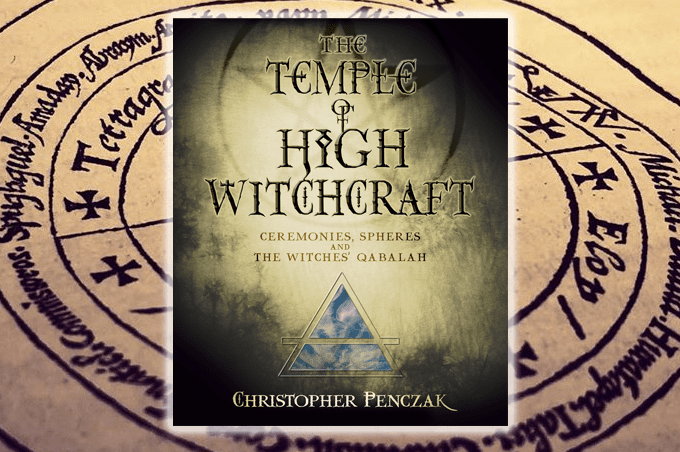 This is hands down one of my favorite books on this subject, specifically because Christopher approaches these concepts and practices through the perspective of a practicing witch, something that is extremely unique and valuable for this field. Not only does he teach you the traditional practices and cosmology of High Ceremonial Magick, but he then also shows you the basic mechanics behind it and how it can be reworked in a Pagan context. As most my readers know, I'm a huge fan of Christopher's work. (I even dedicated my book Psychic Witch to his book The Inner Temple of Witchcraft in my dedication).
Take your spiritual evolution to the next level by mastering the essentials of ceremonial magick. In this much-anticipated fourth volume in Christopher Penczak's award-winning series on witchcraft, he introduces the concepts of the Qabalah and the rituals of high magick, and explores the deeply interwoven relationship between these traditions and the Craft.

The teachings in this book correspond to the element of Air, guiding you into the realm of creative and critical thinking, communication, knowledge, and truth. Four preliminary chapters introduce the basic concepts, history, and skills you will need for your journey. Next, twelve formal lessons, in the witches' traditional year-and-a-day format, provide instruction in the fundamentals of ceremonial magic:

The Qabalah
The Tree of Life
Symbol and sigil magick
Elemental constructs
Qabalistic Cross
The four worlds and their correspondences
Middle Pillar
Pathworking
The Ritual of the Rosy Cross
Invoking and banishing rituals
Fluid condensers
Barbarous words of power, magickal constructs, and the Goetia

The book's thirteenth lesson culminates in a ritual initiation fusing the traditions of witchcraft and high magick―the creation of your own Reality Map. The cosmology you create will be based on your own spiritual experiences as well as the philosophies and practices of ceremonial magick.

---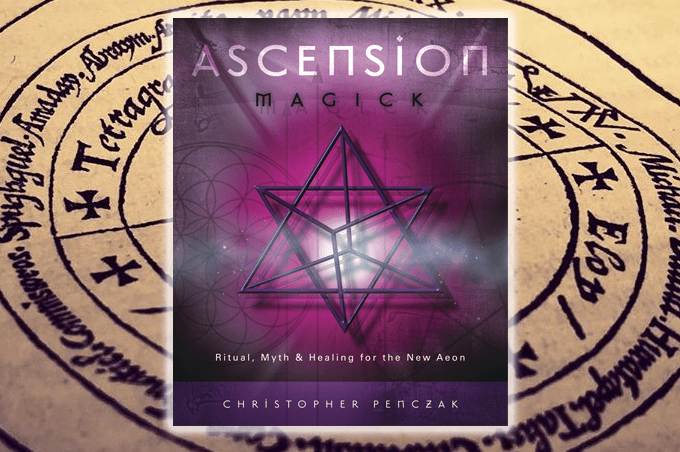 This book is a little bit more advanced than the previous. This book is a fascinating blend and comparison between various forms of High Ceremonial Magick such as the Hermetic Golden Dawn and Thelema with Theosophy, New Age, Ascensionism, and Witchcraft showing how they correlate, compliment and empower one another.
Taking a magickal approach to this often misunderstood spirituality, Christopher Penczak explores the fascinating path of ascension. Ascension Magick unveils the diverse mystical roots of ascension, and highlights where the beliefs and practices of today's "light workers" intersect with those of modern pagans, witches, and magick practitioners. It also examines the practical side-various forms of magick, energy healing, meditation, past life regression, channeling, dowsing-and provides helpful meditations, spells, and exercises. From angels and aliens to reincarnation and the Merkaba, Penczak leaves no stone unturned in this remarkably thorough and absorbing examination of ascension spirituality and magick.

---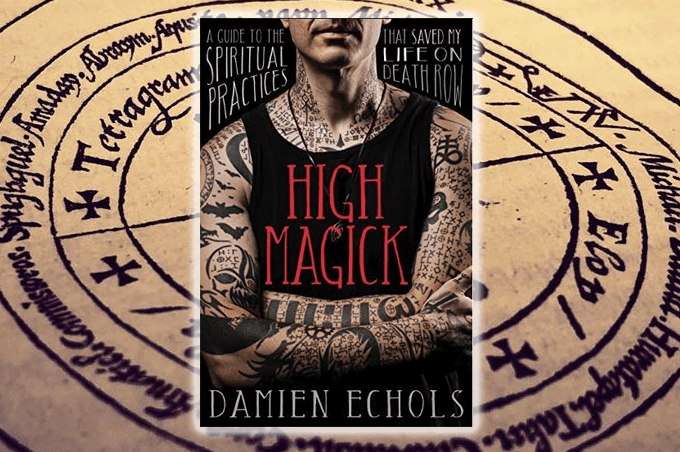 Damien Echol's first book focused solely on teaching magick. This is perhaps the most approachable, simplified, and straight-forward guide you can buy to start learning the basics of High Ceremonial Magick, it's concepts and foundational practices.
Discover a Powerful Practice for Transforming Yourself and Your Reality

At age 18, Damien Echols was sentenced to death for a crime he didn't commit. "I spent my years in prison training to be a true magician," he recalls. "I used magick―the practice of reshaping reality through our intention and will―to stave off incredible pain, despair, and isolation. But the most amazing feat of all that practice and study was to manifest my freedom." With High Magick, this bestselling author shares his first teaching book on the powerful spiritual techniques that helped him survive and transcend his ordeal on death row.

Though our culture has consigned "magic" to fiction, stage illusions, or superstitions about dark practices, the magick Damien learned is an ancient Western tradition equal the Eastern practices of Buddhism, Taoism, and yoga in its wisdom and transformative power. Here he brings you an engaging and highly accessible guide for bringing magick into your own life, including:

• What is High Magick? Damien clears away the stigma and reveals the history and core teachings of this extraordinary art.
• The Four-Fold Breath―a foundational meditation practice to train your mind and body to channel subtle energies.
• The Middle Pillar―how to bring divine energy into the central channel of your body for empowerment and healing.
• The Qabalistic Cross―a centering technique to help you stay balanced and protected regardless of circumstances.
• The Lesser Rituals of the Pentagram―powerful practices for banishing negative energies and invoking energy to manifest your goals.
• Working with angelic beings and other spiritual allies to support your practice.
• Creating thoughtforms to assist you in your ongoing magickal development.
• Guidance for overcoming your doubts, enhancing your visualization skills, creating talismans, practicing magick ethically, and much more.

"Magick is a journey," writes Damien. "It's a continuously unfolding path that has no end. You can study and practice magick for the rest of your life and you will still never learn everything that it has to teach you." If you're ready to discover your untapped potential for co-creating your reality with the energy of the divine, then join this extraordinary teacher to begin your training in High Magick.
---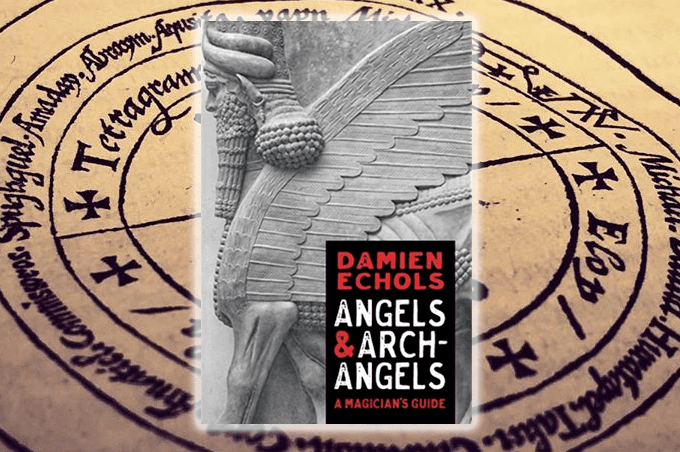 This book is a great compliment to Damien's book High Magick, but can also be read as a standalone. Damien does a fantastic job in introducing the concept of angels and archangels and how to work with them in a Ceremonial High Magick point of view. He also provides fascinating perspectives related to the archangels that I have never come across before.
"Angels do not belong to any one single religion, system, or dogma," teaches Damien Echols. "They are almost pure energy―the very substance the cosmos is made of. They're also incredibly willing to work with us if asked." With Angels and Archangels, this bestselling author presents an essential resource for understanding what angels are, how they make themselves available, and magickal practices to invoke their power to transform your life.

For the magician―or anyone seeking to enlist helping forces on the path of awakening―invoking angels and archangels gives you access to incredible potential for manifestation, healing, and spiritual growth. In this lucid and information-packed guide, Damien shares his unique understanding and experience of magickal practices refined in the crucible of his wrongful death row imprisonment. Here you'll discover:

• A clear presentation of angels and archangels as they have been honored in mystical traditions for thousands of years
• The names and qualities of individual angels and archangels, as associated with the elements, the Zodiac, the Tree of Life, and the Tarot
• Foundational practices and meditations for building your skills with magick
• How to call on angels for blessing, protection, invocation, the creation of talismans and sigils, and more
• Advanced angel magick rituals, including the Rose Cross, the Celestial, and the Shem Operation
• The Holy Guardian Angel―the key contact for stepping into your true nature beyond ego consciousness

"When working with angels and archangels," says Damien, "I've come to realize that they don't carry out the tasks we charge them with just because we ask them to―they do it because they perceive the divine within us." Angels and Archangels is an essential resource for every magickal library, an invitation by one of the most exciting modern teachers of the art to discover the enormous potential waiting for your call.
---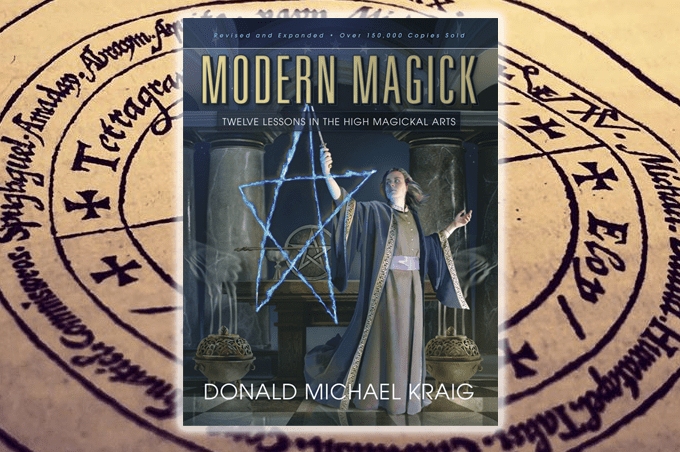 Modern Magick is a classic book and has been for many occultists first book on the subject of High Ceremonial Magick. Donald Michael Kraig was one of the first to lay out these practices in a clear and understandable manner for the solitary practitioner in a way that many before him hadn't done before. The original version of the book was subtitled "Eleven Lessons in the High Magickal Arts." This expanded and revised edition contains one extra lesson not in earlier editions. Did you know that Donald Michael Kraig was once the roommate of Scott Cunningham and that both of them were once witchcraft students of Raven Grimassi?
For over two decades, Donald Michael Kraig's Modern Magick has been the world's most popular step-by-step guide to working real magick. Tens of thousands of individuals and groups have used this course as their primary instruction manual. Now, greatly revised and expanded, this set of lessons is more complete and relevant to your life than ever.

Written with respect for the student, Modern Magick will safely guide you―even if you know little or nothing―through a progressive series of practical exercises and rituals, complemented by the knowledge, history, insights, and theory you need to become a successful ceremonial magician. Firmly rooted in the Western magickal tradition yet designed to be fully compatible with your contemporary practice, this book will help you attain full mastery of all core topics in magick:

The inner mysteries of the Kabalah
The most powerful rituals of magick
How to create and perform your own rituals
True meditation
Magickal ethics
Astral projection
Tools of magick
Evocation of spirits
Pathworking
Tantra and sex magick
The importance of the Tarot
Talismans and amulets
Secrets of visualization
Alchemy
Psychic self-defense
Healing rituals

Filled with personal stories and helpful illustrations, along with updated and brand-new material, this new edition of Modern Magick features a completely new lesson that reveals the concepts, techniques, and rituals of Neuro-Linguistic Programming, Chaos Magick, and Postmodern Magick. Ideal for beginning, intermediate, or advanced students, and perfect as a manual for magickal temples, this is essential reading for every true magician.

---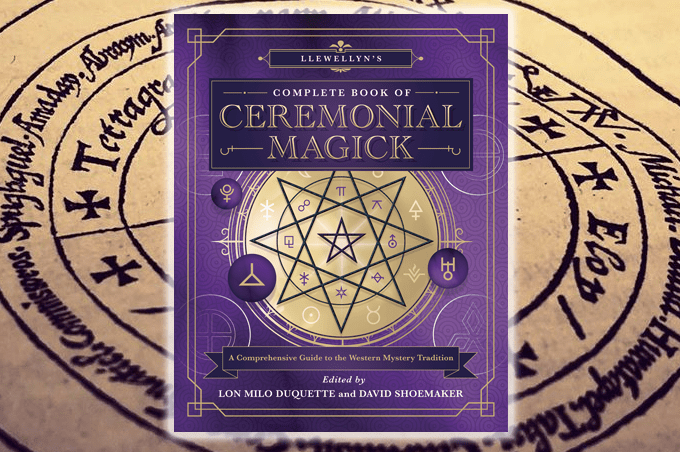 This book is a fantastic anthology exploring the foundations of High Ceremonial Magick by some of today's most prominent ceremonial magickian authors. It's indeed super comprehensive and still completely beginner friendly.
Llewellyn's Complete Book of Ceremonial Magick brings together the myriad occult philosophies and techniques necessary for a thorough understanding of the esoteric arts. This magnificent treasury is filled with fascinating insights from today's most esteemed working practitioners, developing the rich details of a dozen topics that together comprise the Western Mystery Tradition. Within these pages, you will explore the rituals and ideas that have shaped the history and modern practice of magick. Edited by virtuoso occultists Lon Milo DuQuette and David Shoemaker, this brilliant collection of new writings is the preeminent reference work on the occult arts and sciences.

Foundations of Western Magic (Sam Webster) • Qabalah (Anita Kraft & Randall Bowyer) • Planetary Magic (David Rankine) • Alchemy (Dennis William Hauck) • Demonology & Spirit Evocation (Dr. Stephen Skinner) • The Magick of Abra-Melin (Marcus Katz) • Enochian Magick & Mysticism (Aaron Leitch) • The Golden Dawn (Chic and Sandra Tabatha Cicero) • Thelema & Aleister Crowley (David Shoemaker) • Polytheistic Ceremonial Magic (John Michael Greer) • Magician's Tables (David Allen Hulse) • The Future of Ceremonial Magick (Brandy Williams)

---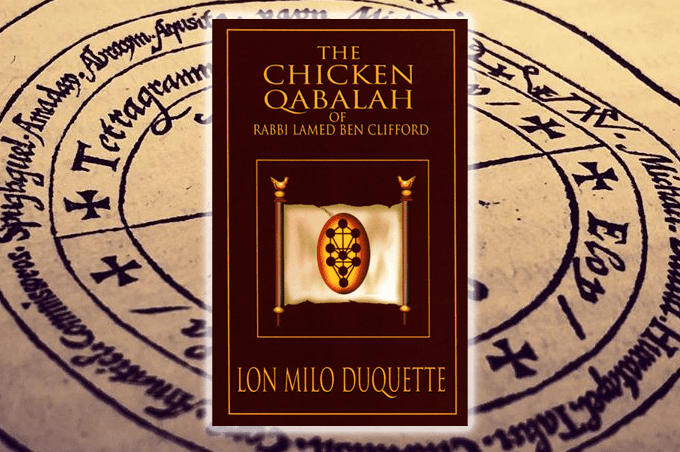 This is probably my favorite book on the topic of Qabalah. He is currently the Ordo Templi Orientis' United States Deputy Grand Master. Not only is Lon Milo Duquette so well researched on occultism and magick, being one of the most highly respected magickians today – but he's also insanely entertaining and humorous. I found myself laughing out loud several times while reading this book and this book really helped me to gain a firm grasp on the Heremetic Qabalah. Throughout this book, he often sort of tricks you into learning without you realizing that you're doing so. This book is a definite treasure and his sense of humor is much needed in the fields of High Ceremonial Magick.
A unique and humorous — and also practical — approach to the increasingly popular study of Qabalah. This is a seriously funny book! Traditional Qabalistic (or Cabalistic, or, indeed, Kabbalistic — read this book to find out what the difference is…we know you've always wondered) sources tend to be a bit, er, dry. DuQuette spices up the Qabalah and makes it come alive, restoring the joy of learning the fundamentals of this admittedly arcane system by using simple, amusing anecdotes and metaphors. This account, written psuedepigraphically (fictitiously attributed to a supposed authority), allows DuQuette as Rabbi Lamed Ben Clifford to soar to outrageous heights and, when necessary, stand apart from the silliness to highlight the golden eggs of Qabalistic wisdom nested therein. Sure to be a revelation to those who think that learning about the Qabalah needs to be tedious and serious, DuQuette shows that great truths can be transmitted through the medium of laughter.
---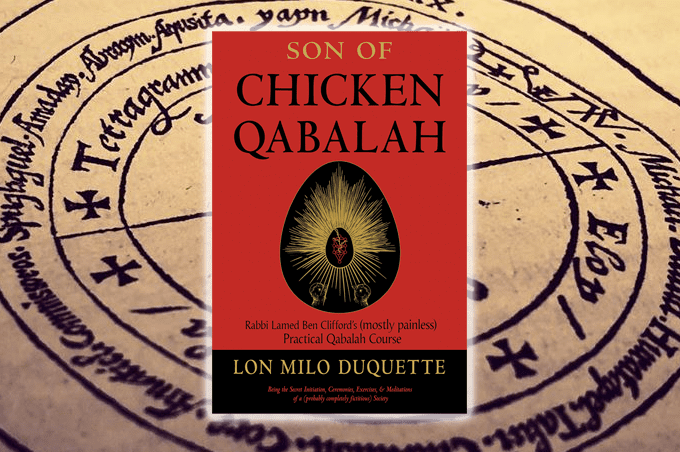 This is the follow up and second book in the Chicken Qabalah series. This book is aimed at self-initiation through three degrees, having you experience the concepts instead of just learning them. Just as humorous as the last book, I highly recommend this book after The Chicken Qabalah.
This simultaneously funny and serious book provides the easiest, fastest way for readers to painlessly attune themselves to the mysteries of the Hebrew alphabet and immerse themselves in the fundamentals of practical Qabalah. It is a road map from the Godhead to your head–a clear and lucid guide to an extremely complex, mystical topic. By performing the exercises and rituals in the book, the reader can complete the self-initiatory process comprising the three main degrees of Rabbi Lamed Ben Clifford's Practical Qabalah course.
---
Ways To Support My Work: