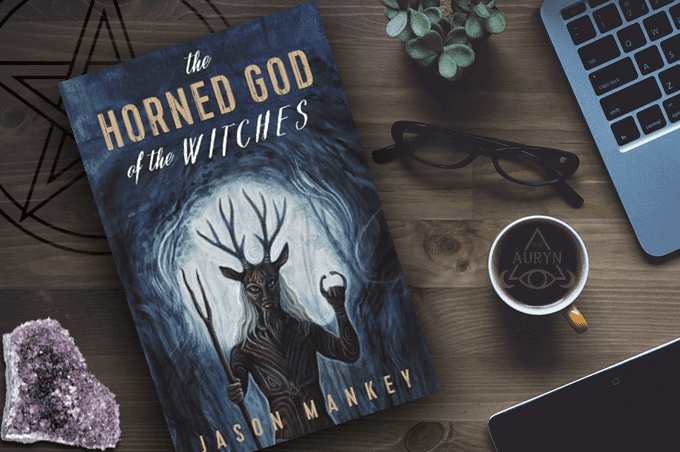 Jason Mankey leaves no stone unturned in his quest to uncover the Horned God of the Witches, as he follows the hoof-prints around the world from prehistory to ancient pagan religions to modern witchcraft, comparing similarities and contrasting differences. This fascinating book is well-researched, respectful, and inclusive, regardless of your theism. The Horned God of the Witches is the best book you can get your hands on for learning about the history of Pan, Cernunnos, Lucifer, the Witchfather, and many more all in one place. More importantly, Mankey shows how to create a genuine connection to and a personal magickal relationship with them through various meditations, rituals, and exercises throughout so that you can raise the horns in your own life.
Jason Mankey is one of those authors where each book is progressively better than the last in my opinion. Mankey is one of the best researchers in Paganism and Witchcraft, but what makes him stand out in this regard is he's a participant of those worlds while also discerning about its history, not simply an outsider studying it, or a practitioner who is attempting to reshape history to fit his beliefs. The Horned God of the Witches is a topic close to Jason's heart, and it's obvious when you read the book. I would be hard-pressed to think of someone more fitting to write a book on this. Before this book, the closest you could get to these topics as a cohesive whole was The Witches' God by Janet & Stewart Farrar published in the late '80s. Since then, our understanding of history has changed, and unlike that book, Jason's focus isn't solely on a Wiccan view, it's much broader than that, but can help you gain a better understanding of the Wiccan deity as well. 
There's a few reviews on Amazon for the Horned God of the Witches that are extremely reactionary and misleading. One review says Mankey "apologizes for being (of) European (descent)." That's absolutely not true, and doesn't do so anywhere in the book. There's a review that complains that Jason apologizes for not taking the scope of the book outside of European pagan religions and traditions. Jason acknowledges that Horned deities exist outside of Europe such as Hindu ones, but that they aren't necessarily the focus of this book as it relates to the European rooted witchcraft traditions and their predecessors and influences. I'm not sure why mentioning that they exist outside of Europe is making folks uncomfortable. Another hilarious one states Jason incorrectly promotes the Horned God as having influences which include the Devil – and while this may make you uncomfortable, Jason provides all the historical receipts and quotes within the book. One only need to pick up any non-Wiccan Witchcraft Trad book throughout time to find the title of "The Devil" often used for the Horned God. 
The final complaint people are leaving is saying the Horned God is ONLY male and not non-binary or female. Again, I'm sorry if this makes you uncomfortable, but Jason lays out all the historical examples and information within the book itself. He's not inventing this stuff out of thin air. The book is not trying to be "woke", as some disgruntled folks are saying, but rather there's information and history that people intentionally refuse to look at because it makes them uncomfortable due to their own personal biases. So if you want to totally have your own biases confirmed to keep your understanding limited, skip this book. If you want to learn a wide historical understanding and connect with the Horned God and other Horned deities, The Horned God of the Witches is the best book you can get on the subject. 
Ways To Support My Work: