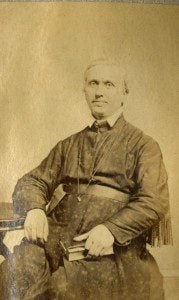 CATHOLIC PRIEST TARRED AND FEATHERED (The Brooklyn Eagle, October 19, 1854) 
The Bangor Mercury states that Rev. John Bapst, a Catholic pastor in that city, was tarred and feathered and ridden on a rail, on Saturday night, at Ellsworth, while on a visit to that place. He was formerly pastor in Ellsworth, and was then engaged in a controversy about the school question. The excuse the persons give is that they previously threatened to tar and feather Mr. Bapst if he came to Ellsworth again. The Mercury says: he has been pastor of the Catholic population only a few months. We understand he was born and educated  in Italy. Since he has been here, he has done much good among the Catholic population, and has brought about many useful reforms, winning recommendation on all hands.
NOTE: Father John Bapst, S.J. (1815-1887) was born in Switzerland. He joined the Jesuits in 1835 and was ordained in 1846. In 1848, he came to the United States and was sent to Maine. He initially worked with the state's Native American population, and was indeed tarred and feathered in Ellsworth. He never quite recovered from the shock of the experience, and peers recall he had numerous nightmares about it in later years. Later he built the first Catholic church in Bangor. He was also the first President of Boston College, founded in 1863.