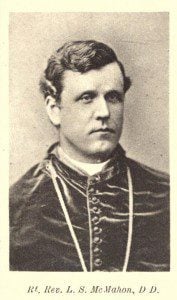 RIGHT REV. LAWRENCE S. McMAHON, Fifth Bishop of Hartford.
Lawrence S. Mcmahon was born in the British province of New Brunswick in 1835, but was brought to the United States in his fourth year. His early studies were made in the public schools of Boston, but he subsequently entered the College of the Holy Cross at Worcester, Mass., and remained there till the destruction of that institution by fire suspended its work for a time. He made the rest of his course in Montreal and Baltimore. Desirous of devoting himself to the service of the Almighty, he went to France and began his theological course at the college of Aix, but completed it at Rome, March 24, 1860. He was ordained that same year in the Basilica of St. John Lateran by the cardinal vicar. On his return to the United States he was first stationed in the cathedral at Boston, but in 1863 accompanied the Twenty-eighth Massachusetts regiment to the field as chaplain. After the war he was appointed the first pastor of Bridgewater, from which parish he was, on the 1st of July, 1865, transferred to New Bedford. Here he erected the elegant Gothic church dedicated to St. Lawrence, collecting means as he advanced, so that he escaped any large indebtedness. His next step was to establish an hospital for the care of the sick, under the charge of the Sisters of Mercy— the first institution of the kind in New Bedford—and he also acquired land for other pious establishments. When the see of Providence was erected, in 1872, Bishop Hendricken made Rev. Mr. McMahon his vicar-general, and the next year the zealous priest received from Rome the degree of Doctor of Divinity. After fourteen years' mission work at New Bedford he was chosen for the see of Hartford, and was consecrated by Archbishop Williams on the 10th of August, 1879. He completed the cathedral, and governs the diocese with zeal and prudence. The diocese contained, in 1884, 136 priests, 116 churches, and a Catholic population estimated at 180,000.
John Gilmary Shea, The Catholic Hierarchy in the United States (New York: The Office of Catholic Publications, 1886), 258.