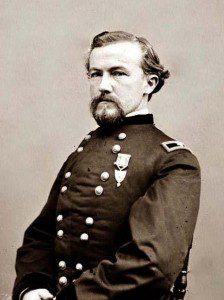 Charles Ewing, b. at Lancaster, 6 March, 1835; d. at Washington, 20 June, 1883. Commencing his studies at the college of the Dominican Fathers in Perry County, Ohio, he later attended Gonzaga College, Washington, and the University of Virginia. In 1860 he began the practice of law in St. Louis, Missouri. The Civil War breaking out soon afterwards, he was commissioned a captain in the Thirteenth Infantry of the United States Regulars in May, 1861, and in the Spring of 1862, joined his brother-in-law, General William T. Sherman, in the Arkansas and Mississippi campaigns. In the siege of Vicksburg he was thrice wounded. On the 22nd of June, 1862, he was commissioned lieutenant-colonel and assistant inspector-general of volunteers, and on the 15th of June, 1863, inspector-general of the Fifteenth Army Corps. He served with much distinction in the Atlanta campaign and the famous march through Georgia. On the 8th of March, 1865, he was commissioned brigadier-general, and on the mustering out of the volunteers was transferred to the regular force, from which he resigned as brevet-colonel on the 31st of July, 1867. He was brevetted three times in the regular service for gallant and meritorious services at the Vicksburg and Atlanta campaigns. After his retirement from the Army, he took up his residence in Washington and began the practice of law, in which profession he obtained considerable prominence. In 1873 he accepted the appointment of Indian Commissioner, and laboured energetically to restore to the Catholic Indian Missions the schools among the Indians which they had maintained for twenty years. Pope Pius IX, 3 May, 1877, created him a Knight of the Order of St. Gregory the Great. General Ewing married Virginia, daughter of John K. Miller of Mt. Vernon, Ohio.
The Catholic Encyclopedia (1911)
NOTE: General Ewing was the son of Senator Thomas Ewing, a convert. His brothers Hugh and Thomas also served as Civil War generals. His sister Ellen married William T. Sherman; their son Thomas Ewing Sherman became a Jesuit priest.