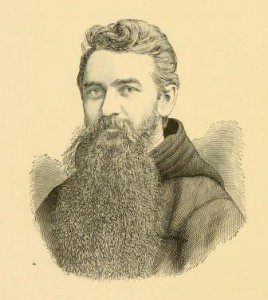 Rev. Bonaventura Frey, O.M. Cap., Pastor of the Church of St. John the Baptist
The Rev. Father Bonaventura Frey was born June 12, 1831, in the Canton of Thurgovia, Switzerland. His education, begun at Einsiedlen, was completed at the Universities of Bonn and Tubingen. Gid having called him to the ecclesiastical state, he proceeded to St. Gall's Seminary, in Switzerland, which bears the name of one of Ireland's saints. Here, after that preparation of the mind and heart which the Church ordains for aspirants to the awful ministry, he was ordained, in May 1854, by Bishop Mirrer. After receiving priestly orders he was appointed to a parish in his native canton, and discharged his duties commendably until the year 1856, when he resolved to devote himself to the American mission. Having arrived in this country, he was received by Bishop Michael Henni, and appointed to St. Mary's Church in Milwaukee. His mind had always turned to the religious state, and he felt called to devote his life to serve God in the reform of the Franciscan Order, known as the Friars Minor Capuchins. There was no continuity of this famous order in the country, but a pious Swiss Father was duly authorized to open a novitiate in Wisconsin. F. Bonaventura Frey and F. Francis Haas were the first to receive the habit and enter the novitiate. After pronouncing his vows he erected the convent of Mount Calvary, in Fond du Lac County, Wisconsin, in 1857. The community prospered, and Father Bonaventura, after laboring here several years, came to New York in 1866, and had already erected a convent and church of Our Mother of Sorrows, in Pitt Street, before the Most Reverend Archbishop requested him to extend his zeal to St. John's. This brief sketch will show that he is a priest of more than ordinary merit, and one likely to render signal service to the Church.
John Gilmary Shea, The Catholic Churches of New York City (New York, 1878), 423-424.