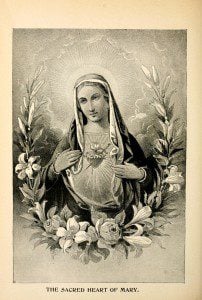 Our Lady of the May
By J. Corson Miller
Hail, thou thrice-glorious Queen of the slumbering night!
All hail, immortal Queen of radiant day!
Sweet Mistress of the May—
Through thee, through thee
The Son of God assumed the mystery
Of flaming Savior for this fallen world,
And death was hurled
Into the pit devoid of joy and light.
Dawn, preening rosy pinions for His flight
Across the gold-splashed gardens of the sun,
Must hide his face and run
Before thy blinding beauty; star on star
That decks the skies afar,
Bejewelling night's crown with glittering beams,
Must pale before thee—Blossom of His dreams!
Immaculate as lilies newly-born,
White Rose of Sharon's morn,
For thee, for thee
The gentle spring puts on her witchery,
And all the earth is raimented with song.
[Naught didst know of wrong.]
Bright Queen enshrined in dauntless motherhood,
Thrice-blessed thou 'mong women for all time—
Ay, knowing thee, they climb,
Through weary years, to each beatitude.
Ye listening ages, hear out thunderous "Hail!"
"Ave" the oceans roar, the rivers sing,
"Ave" the mountains chant above the gale;
And what the sad, broken music in the wall
That goes to thee from women suffering!
In joy or grief,
In life's new bloom or sering leaf,
O Mary, turn thine eyes unto our prayer,
The way to heaven prepare!
For thee, for thee,
Perpetually,
We 'tune our citherns and our fluted strings;
To thee we bring the soul's pure winnowings,
That thou, in turn, mayest plead with Christ,
Thy Son,
When life is done,
To take us home with Him—yea, every one.
The Ave Maria, Vol. III, No. 19 (May 6, 1916), 1.