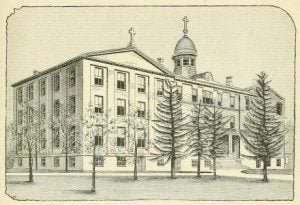 ODE FOR THE GOLDEN JUBILEE OF VILLANOVA COLLEGE (1892)
By Eleanor C. Donnelly
OH ! blest be the day, when the sun's golden ray
First shone on these shades, Villanova revealing!
Like the sunrise that shone on King Memnou's famed stone,
Awaking a strain full of fervor and feeling!
Grave doctor and sage
In that long- vanished age,
Their record inscribed on our history's page,
While the sons of St. Austin, with tears and with toil,
Their altars uprear'd on this prayer-hallow'd soil!
Their altars, their school, where the Monk's kindly rule
With Virtue and Wisdom form'd loyal alliance, —
Guiding youths, (now grown gray, or at rest 'neath the clay,)
To the fountains of Faith, and the well-springs of Science!
Ah ! should we not claim
For its guardians, the fame,
That linger'd, of yore, 'round each love-lighted name ;
The perfume of sages and saints passed away,
Still hovers around Alma Mater to-day!
With immortal renown, 'tis St. Thomas we crown,
When we chant, with delight, Villanova's glad praises ;
For Augustine's great son for his brethren hath won
A glory, that earth and its minions amazes!
Not the glory of Time,
(A mere vapor sublime!)
But the glory that lives when Time's death-knell shall chime!
The halo, all fadeless, that Faith loves to paint
'Round the altar that shrines Villanova's dear Saint!
Fifty years have gone by, since we throned him on high,
As patron and guide of a past generation;
And the rapture, to-day, of our JUBILEE gay,
Proclaims him our patron and guide to salvation!
While his sons have increas'd,
And while prelate aud priest
Assemble to honor and brighten our feast,—
Let us toast with a tear, the blest shades we revere,
Our FOUNDERS and friends— the departed and dear!
All homage be paid the illustrious Dead!
May their mantle descend on our guardians and masters!
And success to the Boys, full of knowledge and noise,
Who have pass'd from these halls to Life's dreams or disasters!
Time, trembling and old,
Like a hermit hath told
On his glittering chaplet, five decades of gold,—
Villanova still lives! — Like the stars of the morn,
May she live, may she shine, thro' the ages unborn!
Rev. Thomas C. Middleton, O.S.A., ed., Historical Sketch of the Augustinian College, Monastery and Mission of St. Thomas of Villanova, Delaware County, Pa., During the First Half-Century of Their Existence, 1842-1892 (Villanova College, 1893).