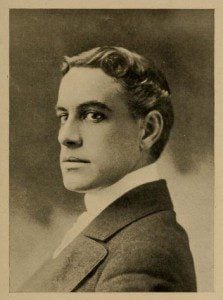 Williams, Fritz (Frederick Williams):
Actor; b. in Boston, Mass., August 23, 1865; parents member at the stock company at the Boston Museum for 15 years; made his first appearance on stage at that theatre when six months old, being carried on by William Warren, the comedian, in a farce called Seeing Warren. Attracted much attention (1879), as Sir Joseph Porter in a juvenile Pinafore company at the Boston Museum; moved to New York and won some fame as a concert singer, singing Gilmore's American Anthem at a big concert at Madison Square Garden on St. Patrick's Day, 1880. Being clever with the violin, he also became a member of the Germania Theatre Orchestra; for two seasons first violin at Tony Pastor's. During this time he was studying at St. John's College, Fordham, N.Y., from which he graduated when twenty years old. Mr. Williams made his first appearance as a professional actor at Wallack's Theatre, New York, as Anatole in A Scrap of Paper; made his success as Jimmy in Nita's First, an English farce; afterwards played with Frank Mayo in The Streets of New York, and with Edwin Booth in Don Caesar de Bazan; acted with Dion Boucicault in The Jilt and other plays for three successive seasons. A season with Arthus Rehan on the road followed, and in 1889 Mr. Williams became a member of the Lyceum Theatre Company, New York, remaining with the organization until 1896. During that time his chief successes were as Alec Robinson in The Charity Ball, Ferguson Pybus in The Case of Rebellious Susan, the Count du Grival in The Amazons, and Frank Trendall in The Home Secretary. Leaving the Lyceum Company, Mr. Williams was seen in many farce comedies such as Thoroughbred, On and Off, etc. The season of 1900-1901 he was with the Weber and Fields Co. Of late years he has appeared in various parts and many companies. Mr. Williams married Katherine Florence, an actress, June 25, 1896. Address: Care of The Players, Gramercy Park, New York.
Georgina Pell Curtis, ed., The American Catholic Who's Who (St. Louis: B. Herder, 1911), 688-689.