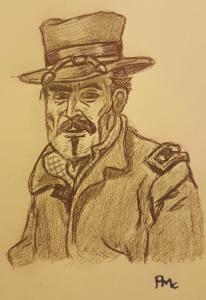 He was known as "Hollywood's one-man U.N." for the various characters he played: Italians, Native Americans, Frenchmen, and many more. Described as one of Golden Age Hollywood's most versatile character actors, he once commented: "When the part of an Irishman comes along, nobody ever thinks of me." (He played an Irish character only once, General Philip Sheridan, in John Ford's 1950 film Rio Grande.)
Born in Manhattan to parents from Limerick, Joseph Patrick Carroll Naish grew up in East Harlem, then a largely Irish neighborhood. (His uncle John Naish was Lord Chancellor of Ireland in the 1880's.) He attended St. Cecilia School on East 106th Street before leaving for a theatrical career. After serving in World War I, he joined the Merchant Marine and traveled the world before going to Hollywood in 1926. This experience gave him a fluency in language and dialects that served him well as a character actor.
Carroll was nominated for Best Supporting Actor twice: for Sahara in 1943, where he played an Italian soldier, and A Medal for Benny (1945), playing a Hispanic parent. From 1948 to 1953, on television and radio, he played an Italian character in Life With Luigi. He was married to Irish actress Gladys Heaney for forty-four years until his death in 1973, Naish is buried at Calvary Cemetery in East Los Angeles. He appeared in nearly two hundred films.
(*The drawing of Naish as General Phil Sheridan in the 1950 film Rio Grande is by Pat McNamara.)