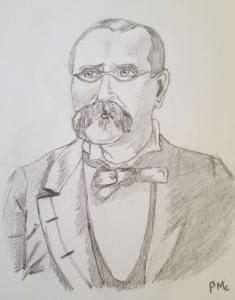 Michael Bloomberg wasn't the first New York Mayor to learn Spanish. That distinction belongs to William Russell Grace (1832-1904), an Irish immigrant who made a fortune in the Latin American shipping business. His 1880 election was a major breakthrough for New York Catholics, as he was the first successful Roman Catholic candidate.
Born to a respectable family in County Cork, Grace left Ireland at sixteen for New York during the height of the Irish Famine. For most of his two years there, he worked on the waterfront as a shipping clerk, an experience. He worked his way up in the shipping industry and by 1854, at age twenty-two, he had started W.R. Grace & Company as a shipping line.
Grace worked in Peru eleven years, making his the first multinational company in Latin America. (It was said that he knew Spanish "as readily as English.") By age thirty, Grace was quite wealthy. In 1865, he returned to New York, running the business from there. He and his wife, the daughter of a New England sea captain, settled in Brooklyn Heights. He kept offices across the river in Manhattan. 
Historian William Bryk notes that Grace "was an independent Democrat who had never taken more than a layman's interest in poliitcs." But by 1880, he became an active participant behind the scenes. Politics, comments Marquis James, seemed to have ignited his "strain of idealism." At the time, New York politics were dominated by Tammany Hall under "Honest John" Kelly, who asked Grace to run for Mayor. Grace said yes, adding, "But if elected, I'll be the Mayor, you know."
As an Irish Catholic, Grace could count on that sector's vote, but anti-Catholicism was still strong in New York. One Dexter Hawkins wrote the New York Times that if elected, Grace would be little more than "a tool of the Romish Church," replacing public with parochial schools. One political orator declared:
If Mr. Grace is a good Roman Catholic, he must, in the conscientious discharge of his duty, if elected Mayor, make this City subordinate to… the Holy Father in Rome.
Grace won with by 2,914 votes. A reform-minded executive, he proved, one historian notes, "an able and efficient mayor." When Kelly tried to influence his appointments, Grace heatedly replied: "No one can dictate to me, Mr. Kelly." In this, James notes, he showed a rich man's "contempt for what the machines might do to him politically."
After a two-year term, Grace stepped down. One journalist who initially opposed him said, "It is no small praise of a public man in this city to say that he has earned the cordial hatred of Tammany Hall." But in 1884, reform-minded citizens asked him to run again, and he won by ten thousand votes. His reelection was hailed as a "triumph for the voices of good government."
Once again, when his term was over, Grace returned to private life, this time for good. A devout Catholic, every morning he attended Mass at St. Agnes Church in midtown before going to City Hall. An active philanthropist, especially for Catholic causes, James writes that "his work for the Church was unending." His legacy lives on in Manhattan's Grace Institute, which he founded for immigrant women in 1897, and which continues to provide tuition-free training today for women in the workplace.  He is buried in Holy Cross Cemetery in Brooklyn's Flatbush section.  
(Note: The above essay is adapted from my 2014 book New York Catholics. The drawing of Mayor Grace is by Pat McNamara.)