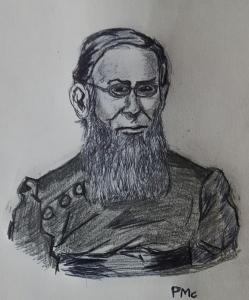 The Paulist Fathers were founded by Servant of God Isaac Hecker in 1858 as the first religious community of Catholic priests in the United States. Tonight at their motherhouse, St. Paul the Apostle Church in Manhattan, they are celebrating a Mass to begin a year-long commemoration of the bicentennial of their founder's birth on December 18, 1819. The Paulists have long been one of my favorite religious communities with their emphasis on outreach, reconciliation and ecumenism. They have been aptly described as "positive" and "progressive."
If you haven't seen the recent Paulist documentary "Isaac Hecker and the Journey of Catholic America" (it's available on Amazon Prime), I'd highly recommend it. Whether you know a lot or a little about Hecker (1819-1888), I think you'll enjoy this look at his life and ministry. Some of the finest American Catholic historians are interviewed here; highly respected actors like Martin Sheen provide voice-overs; exemplary historical images are used. All in all, the film ably illustrates an important theme: that Hecker loved Catholicism and loved America, and that he wanted to build a bridge between the two.
I first learned about Hecker during my sophomore year at Fordham University, where I was taking a course on American Catholic history with Father Mark Massa, S.J. I was nineteen and on my own journey, trying to figure out what God wanted me to do with my life. As I read about this nineteenth century man who called himself a spiritual "seeker," I immediately connected. His words about the "aspirations of the soul," his positive take on the promise of American Catholicism, his unwillingness to settle for anything less than the Truth, all spoke to me, a college student living in 1980's New York City, a city that I love and that he loved too.
Hecker loved to share his story with anyone willing to listen. He loved to meet people on their own and reach out to them. He had a passion for things spiritual, for connecting with others, for life itself. And he had something else, something known as chutzpah.
When Hecker converted to Catholicism in the year 1844, Catholic immigrants, mainly from Ireland and Germany, were pouring into the country in record numbers. But they weren't always very welcome. In fact, anti-Catholicism reached a fever pitch in American life as churches were burned, priests and nuns were physically attacked on the streets, and riots broke out in major urban centers. Catholic leaders, understandably alarmed, took a defensive position. With one exception.
After being ordained a priest in Europe in 1849, Hecker came back to America not with fear or trepidation, but with excitement and enthusiasm: excitement about sharing his faith journey, enthusiasm about spreading the liberating message of the Gospel. He especially wanted to share his story with his non-Catholic brothers and sisters. He wanted them to know just why he had taken this step toward Catholicism, and why they might consider doing the same.
With a small band of American-born priests, all converts like himself, Hecker traveled the country not only lecturing on Catholicism, but answering questions on it in a positive, enthusiastic manner. These men, known as Paulists, considered themselves missionaries to America, and they modeled their community on the first great Christian missionary, St. Paul the Apostle.
In a time when steam was the fastest way to get anywhere, Hecker was known as the "steam priest." He wrote bestselling books that stressed the deepest aspirations of the soul. He argued that of all the spiritual journeys one might take, the Catholic one came closest to meeting those needs, through the sacraments, its tradition of service to the least, and its stress on community. It was an era much like our own, full of skepticism and prejudice against things religious. Hecker sought to clear these misconceptions through his preaching, his books, and in an age before social media, he started both a magazine and a publishing house that still exists today.
Unfortunately, however, Hecker came close to burning himself out. By the time of his death at age 69, he felt he hadn't accomplished nearly as much as he wanted to. Nevertheless, his work continues to this day with the extensive Paulist media endeavors, ecumenical work, and the outreach to all people, Catholic and not Catholic, meeting them where they're at and accompanying them on their journey with the same good will, good cheer and good work that Isaac started back in 1800's New York. Watching "Isaac Hecker and the Journey of Catholic America" will show you how all this good work got started. I highly recommend it!
Also check out this short video I created on Hecker a while ago:
(*The above drawing of Father Hecker is by Pat McNamara.)