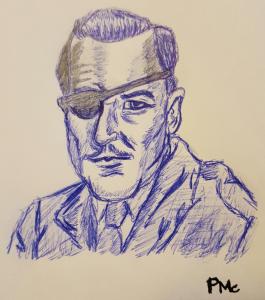 He was one of Golden Age Hollywood's most prolific figures, its premier action director. Over fifty years he directed the likes of Spencer Tracy, Humphrey Bogart, Gary Cooper, and James Cagney. He gave young Marion Morrison his first starring role (and stage name). Raoul Walsh never won an Oscar, but he more than held his own with the era's best directors. Yet the last thing he wanted, biographer Marilyn Ann Moss notes, was to be called an artist.
Born Albert Edward Walsh to Irish-American parents in Manhattan, "Raoul" was a nickname he acquired as a teen. Rambunctious and restless, he skipped from school to school until he was sent to Seton Hall College (now university). There, he recalled, he met Lionel and John Barrymore. "When the three of us got together," he recalled, "we were out in a week."
Walsh once described the Irish as "a wild lot," as "nomads, who wander on the face of the earth." Such describes his early years. He drifted into directing almost accidentally, starting as an actor under D.W. Griffith. In 1915 he played John Wilkes Booth in Griffith's controversial 1915 film Birth of a Nation. (His brother George, after playing briefly for the Brooklyn Dodgers, became a popular silent star.)
Moss writes that "Walsh learned two great lessons from Griffith: get your picture finished on time, and take a businesslike, no-nonsense approach to work on the set." His first directing job in 1914 was a quasi-documentary on Mexican general Pancho Villa. Regeneration soon followed, a melodrama considered a pioneer gangster film. Peopled with real criminals and filmed in the Bowery, it feels like a documentary.
One of his great silent hits was The Thief of Bagdad (1924), featuring cinema's first action star, Douglas Fairbanks. His 1926 World War I drama What Price Glory? was one of the decade's phenomenal successes. He was good at making action-based movies and stuck with it. It was a lesson he learned from Evangeline, a 1919 flop he directed based on the poem: "The picture didn't make a quarter. So I said, 'That's the end of art. Give me the dagger, the sword and the gun.'"
A car accident ended Walsh's acting career just before he was set to play the Cisco Kid in his first sound film. For the rest of his life he wore an eyepatch. In 1930 he took a chance with widescreen film in The Big Trail, a flop chiefly notable as John Wayne's first starring role. (Walsh chose the name, based on Revolutionary War general "Mad Anthony" Wayne.) One reason Walsh chose this novice actor was, he later said, "The son of a bitch looked like a man."
After a series of unremarkable films in the thirties like The Bowery and Klondike Annie, in 1939 Walsh scored a popular and critical success in The Roaring Twenties, a seminal gangster film, with James Cagney and an unsympathetic Humphrey Bogart. When asked in later years about the length of Cagney's death scene, he replied: "Well, it's damn hard to kill an actor."
The 1940's saw Walsh's greatest success. Moss writes that he "helped transform the Hollywood studio yarn into a breathless art form." Westerns, war movies, gangster films, Walsh did it all exceptionally well: White Heat; High Sierra; They Died With Their Boots On; Objective, Burma! During this period, he reflected that
Hollywood's job is simply and directly to furnish entertainment. The man in the street pays his four bits at the box office and he wants a good show. To hell with sermonizing.
One contemporary noted: "Raoul enjoyed people, enjoyed directing, enjoyed pictures, and it came off when he directed."
As Moss notes, there were many similarities between the films of John Ford, Howard Hawks and Raoul Walsh. Ford, she writes, was "the great poet of American community," whereas Hawks "poeticizes the smaller group, the band of brothers." But, she adds, the "truest Walshian character is the lone wolf," such as Bogart in High Sierra, Gary Cooper in Distant Drums, and all of the seven movies he made with Errol Flynn.
Walsh considered directing a day's job of work. Actor Hugh O'Brian recalled: "He was absolutely a no bullshit guy." In 1964, Walsh directed the last film of his career, an uninspiring Western titled A Distant Trumpet. Yet by then French critics were praising his earlier work lavishly, as they considered him a prime example of director as auteur, the driving creative force behind a film. B then, Walsh was happy for the attention.
Yet Walsh lived in quiet, happy retirement with his third wife Mary Simpson, in California, granting interviews to the likes of director and film scholar Peter Bogdanovich. One visitor said of him: "He is a survivor from the old Western days when men were men and toughness was something to be proud of." Not long before Walsh's death in 1980, critic Richard Schickel wrote to him:
You gave to me before I even knew you with your movies… taught me a lot of what a young man needs to know about being a GROWN UP MAN, about strength and tenderness and honor and the need for love between man and woman, man and man.
In an interview toward the end of his life, actor James Coburn reflected: "Today we have action films, not films with action." Many of today's films, Coburn felt, involved "killing and shooting and blowing things up" without asking people to think. There is a difference. High Sierra, The Roaring Twenties, and White Heat, to name a few, are among the finest films in American cinema. Whether Walsh wanted to admit it or not, he was as much an artist as Hawks and Ford (in relation to whom he called himself "the other Irishman.")
(*The above drawing of Raoul Walsh is by Pat McNamara.)