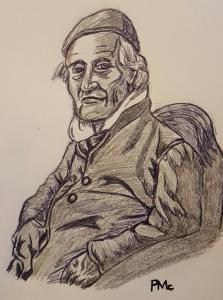 Here are some of the anniversaries that we commemorated in McNamara's Blog for 2018:
What Happened 225 years ago in 1793? Father Stephen Badin became the first Catholic priest ordained in the United States, May 25, in Baltimore, at the hands of Bishop John Carroll.

What Happened 200 years ago in 1818? St. Louis University founded on November 16, as the first institution of higher learning West of the Mississippi River. It is the second oldest Jesuit university in the United States after Georgetown.
What Happened 175 years ago in 1843? The Jesuits' College of the Holy Cross was founded in October as the first Catholic college in New England. The Archdioceses of Portland in Oregon, Milwaukee, Chicago and Hartford were founded. The Dioceses of Little Rock and Pittsburgh were founded. The Sisters of Mercy started their first American foundation in Pittsburgh.
What Happened 150 years ago in 1868? 
The Dioceses of Rochester, Columbus, Green Bay, Harrisburg, La Crosse, Raleigh, Saint Joseph, Scranton and Wilmington were founded.
The Little Sisters of the Poor began their first American foundation on September 13, in Brooklyn.  
What Happened 125 years ago in 1893? The Archdiocese of Dubuque was founded. The Holy See's Apostolic Delegation to the United States was founded in Washington, D.C. It was the forerunner of the Apostolic Nunciature.
What Happened 75 years ago in 1943? Catholic Relief Services was founded during World War II. Today it is the largest private relief organization in the world.
To all my readers, Happy New Year from McNamara's Blog!
(*The drawing of Father Badin is by Pat McNamara.)