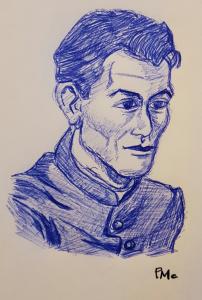 On Christmas Day, I always enjoy watching movies with a spiritual theme, and one of my favorites is a 1944 film The Keys of the Kingdom,  with a young Gregory Peck playing a missionary priest in China. It was a movie that my dad and I watched together often through the years, and for that it reason alone it brings back many happy memories. It's also one of those films from Hollywood's Golden Age, one which more than holds up today.
We all know that the Church receives a lot of bad press these days (in many cases, rightfully so, sad to say), but this wasn't always the case. During the World War II years in particular, its coverage in the media, particularly in films, was nothing short of spectacular.
The Keys of the Kingdom, notes Charles Morris in his 1997 book American Catholic, came about during a very interesting time in American Catholic history. During the war years, Morris writes: "In just three years, from 1943 through 1945, Catholic movies were nominated for thirty-four Oscars." They included:
The Song of Bernadette

(1943): Nominated for twelve Oscars, it won four, including Best Actress for Jennifer Jones as Bernadette. (The Director, Henry King, was a Catholic convert.)  

Going My Way

(1944): Nominated for ten Oscars, it won seven, including Best Picture, Best Director for Leo McCarey, Best Actor for Bing Crosby, Best Supporting Actor for Barry Fitzgerald, Best Story and Best Song.

The Keys of the Kingdom

(1944): Nominated for four Oscars, including Best Actor for Gregory Peck (in only his second movie), this received none, but it was nevertheless one of the year's most popular films.

The Bells of St. Mary's (1945): Nominated for eight Oscars, it won one for Sound. This film teamed McCarey and Crosby as Father O'Malley once more, adding Ingrid Bergman as a young nun. 
Of the four,
The Keys of the Kingdom
holds up the best. The two Crosby movies are a bit overdone, if not formulaic, and don't stand up as well today. My friend Father Robert Lauder, a philosophy professor and film critic, considers it the most mature, intelligent depiction of the celibate priesthood on film. If the 1940's Crosby films go too far in one direction, and recent films tend to veer in the other direction,
The Keys of the Kingdom
stands out for its balance and intelligence. (It's also one of the few films of the era not to indulge in Asian stereotyping.) I particularly recommend it.
Movie trivia: Vincent Price appears in two of these four movies, The Song of Bernadette and The Keys of the Kingdom. Before becoming a horror movie icon, Price was a prominent character actor in the 1940's. (He also converted to Catholicism toward the end of his life.)
From McNamara's Blog, a Blessed Christmas to all!
(*The above drawing of Gregory Peck from The Keys of the Kingdom is by Pat McNamara.)