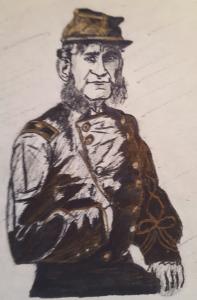 The Columbiettes are an organization of Catholic women connected to the Knights of Columbus. They were founded in March 1939 by Monsignor J. Francis A. McIntyre, future Cardinal Archbishop of Los Angeles, and they now have international branches. I was particularly interested to learn that their branch in Vernon, New Jersey, is named for a Civil War general named Judson Kilpatrick (1836-1881).
Born in New Jersey, Kilpatrick graduated West Point in 1861. Brave to the point of being reckless, he rose quickly up the ranks. After serving in most of the battles in the Civil War's Eastern Theater, he took command of William T. Sherman's cavalry in the famous "March to the Sea." By the end of the war, he was a Major General in command of a corps.
In 1865, Kilpatrick was appointed U.S. Minister to Chile. He held the post for five years, and while there he married where he met his wife Luisa Fernandez de Valvivieso (1836-1928), niece of the Archbishop of Santiago. (Their great-granddaughter was Gloria Vanderbilt, mother of CNN anchor Anderson Cooper.) From there he returned to New Jersey, but he would return to Chile as minister shortly before his death on December 4, 1881.
By then, Kilpatrick had been received into the Catholic Church. According to Monsignor Joseph Flynn in his history of the Church in New Jersey, it was Father G.W. Corrigan who was instrumental in the general's conversion. Flynn writes that Kilpatrick was active in the building of St. Monica's Church in Deckertown, not far from where he grew up. Father Corrigan's brother Michael, the future Archbishop of New York, dedicated the new church in May 1881.
In New Jersey and elsewhere, the Columbiettes are involved in all sorts of great works. Sometimes, though, we tend to forget the history behind the names on the banners and why they are there. This morning provides a good opportunity to talk about the fiery general who, according to Monsignor Flynn, "became attracted to the Catholic Church, on whose peaceful bosom he was laid to rest."
(*The drawing of General Kilpatrick is by Pat McNamara.)