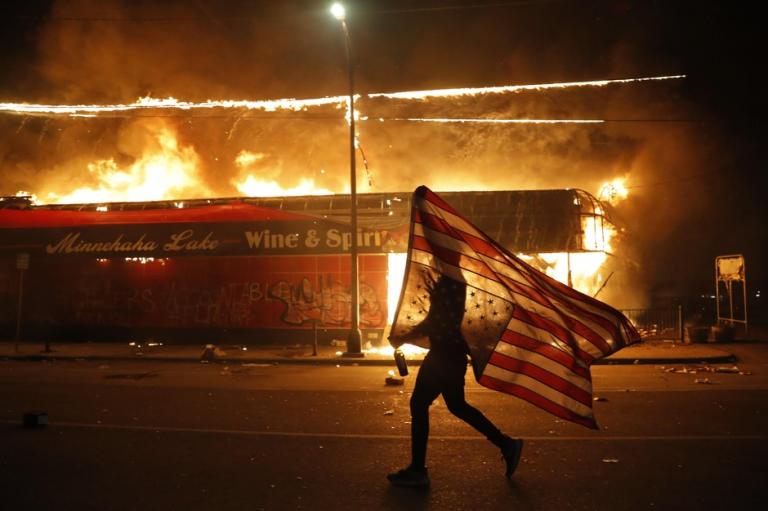 America, when will you stop
Punching yourself in the face?
Are we really going to do
Fight Club now?
Will the racists really get
Away with scapegoating,
Sabotage, and posing
As their enemies in order
To discredit them?
Why is all this a surprise?
We built a nation around
Two idols — a red white
And blue war banner
And Caesar's coin that
Declares in God we trust.
Which God? The generic
One who has no tradition
Other than Enlightenment
Reason, who secretly looks
More like Zeus than
Jesus? We pillaged and
Mongrelized and pretended
Like we had the one pure
Faith though Ra and Osiris
And Marduk and Mars
All remain in our pantheon.
How can anyone claim
That any church in this
Country worships a teenage
Lamb who was slaughtered
By white cops when we raise
Our war banner in every
Sanctuary — the word that's
Supposed to mean a place
Of peace; we want the
God of war that we sing to
At every ballgame; we don't
Worship a bleeding, suffocating
Man on a cross except when
He serves as the whiteout
That lets us keep bombing
Nations into democracy
And getting our hand stamped
For Disneyland in the sky.
Do we trust anything other
Than money and bombs?
How can we love our
Neighbors when we can't
Even clean our houses
Since we curate fake
Lives onto screens;
We would rather create
Avatars in virtual reality
Than share vegetables
With our neighbors;
And now we have an
Excuse to be more
Alone because science
Is always right. Even
Though the indigenous
Know the whole earth
Is sick because
We have raped the land,
We still think science
Is the only answer so
We whip ourselves into
Hysteria with our charts
And graphs that explain
Everything with confidence
Like every child of Lucifer
Drunk on the fruit of knowledge
That has become an entire
Empire of correctness that
Slashed and burned rain
Forests in order to create
Little white pills that will
Solve everything; how can
We survive a pandemic when
We have forgotten how
To breath and how to
Dance and how to build
Fires and how to talk
To spirits and how to hit
Drums and how to ask
Our ancestors for guidance.
Until we rip out the weed rugs
Of our social stability and
Build prayer labyrinths with
Flowers that attract the right
Kinds of insects, until we stop
Buying food in plastic, we
Will continue to live out the
Neurosis that is suffocating
Our entire planet but
Pachamama will work out
The knots in her body one
Way or another; if we are
Not aligned with her beauty,
Then we will be cast into
The fire and made into
Compost for the new earth
She is creating right now;
Many will die because of
The arrogance of centuries
Of conquistadors who
Blasphemed Jesus' cross
Perfectly, wielding it as
A sword saying convert or die.
Until the ancient languages
Are restored, until new
Traditions are discovered,
We will keep asphyxiating
Ourselves into the rage,
Fear, and isolation that
Is our virus. And yet the
Father says behold I am
Doing a new thing; we'll
Call it the year of the
Grandmother; if all
The white men firing tear
Gas into grieving crowds
Would put down their badges
And sit at the feet of the elders
Whose land we stole,
Then we would receive
The wisdom we need and
Perhaps the virus would
Evaporate like the assumption
That people who are alienated
From their ancestors can live
By reason alone, which is the fruit
The serpent handed us to eat.