Hello, beautiful creatures! If you've been following me for more than a minute or two, you're probably aware that I've written a book. The book is titled Outside the Charmed Circle: Exploring Gender and Sexuality in Magical Practice, and it comes out in just a few days—January 8th, to be official, though apparently it's already available in some brick-and-mortar shops—so I thought this would be a good time to tell you a little about it.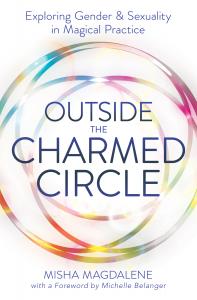 I've said before that people familiar with my blog would be entirely unsurprised by the subject of the book, and I think I've kept that promise. In many ways, the book
Outside the Charmed Circle
is the culmination of a journey which began during the completion of my degree program, with a rejected anthology submission of mine. That essay subsequently informed many of the posts on this blog, and some of those became first drafts for sections of the book. However, while those of you who've been following the blog for a while—and thank you!—will find some familiar themes and passages, this book isn't a collection of blog posts. On the contrary, it's a space where I was able to and expand on many of the ideas I've addressed here on the blog, exploring them in greater detail and following them to some practical conclusions. The central thesis of the book is one of the fundamental themes of this blog: that queer people have every right to a seat at the table of Paganism, polytheism, and magical practice, because magic and devotional polytheism are both inherently queer.
What do I mean by that? Well, you'll just have to read the book and find out.
As you might be able to see in the cover image, the foreword for Outside the Charmed Circle was written by the redoubtable author, occultist, and media personality Michelle Belanger. I was curious what sort of foreword Michelle might write for my book, given that she knew nothing about me prior to my editor asking if she'd be interested. To my great surprise and honor, it's everything I could've hoped for and more. I actually found myself in tears several times while reading it. Michelle gets my book, to a profound and touching degree, and her foreword itself is easily worth the price of admission.
Of course, I think the rest of the book is worth your time, too. In it, you'll find rituals, exercises, meditations, historical information, speculative research, and an awfully long bibliography. You'll also find the usual combination of sass, snark, and silliness longtime readers of the blog a while have come to expect, as well as a few Easter eggs here and there for those who enjoy playing spot-the-reference. If you're interested in trying it before you buy it, the first 47 pages of the book, including Michelle's foreword and the first chapter, are available to read for free on Issuu.
Writing this book has been simultaneously one of the hardest things I've ever done and one of the most rewarding. I've lived with (and inside) this book for a couple of years now, in one way or another, and the ideas at its heart have been a part of my lived experience as a queer nonbinary person, a witch, and a writer for as long as I've been alive.
I can't wait to share it with you.
Outside the Charmed Circle will be published by Llewellyn Worldwide on January 8, 2020. You can order it directly from Llewellyn, from your preferred online retailer (Barnes & Noble, Amazon, Indiebound), or—best of all, if you have access to one—your Friendly Local Occult Store.
Until next time, dear ones, happy new year. ♥