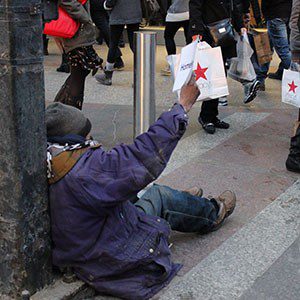 This is a subject our friends at the Kern Pastors Network blog talk about frequently, and they've just put up the final blog in their thought-provoking series on generational poverty (previous posts are at Generational Poverty, Engaging the Culture, Relationships, and Bankrolling Social Capital.)  
In this post, pastor Kyle Bushre argues that the ultimate cure for poverty comes only from the grace of God:
The socialism popularized by the French Revolution argued that the evil of poverty stemmed from the unequal distribution of wealth and power. [Abraham] Kuyper eschewed this theory with the simple observation that those who lacked wealth and power would take it by force and wield it with equal or greater evil. According to Kuyper, the cause of the evil was not as material as socialists argued.
No, the cause of evil lay in this: that men regarded humanity as cut off from its eternal destiny, did not honor it as created in the image of God, and did not reckon with the majesty of the Lord, who alone by his grace is able to hold in check a human race mired by sin (26).
Material poverty is one of the many results of human disregard for God and eternity. If there is no eternity — if physical death is the end of existence — then there is no reason to hope for a restored creation beyond the one we create on our own. And if there is no God governing the current creation to whom human beings must give an account, then the world we create on our own, by necessity, will be shaped by the sinful passions and selfish ambitions that characterize human wrought wisdom. In other words, without the grace of God and the scope of eternity, we are responsible for creating heaven, but only capable of creating hell.

The church is the only institution on earth sufficient to combat the problem of generational poverty because it is the only body that focuses on poverty's real cause. The church that centers her compassion ministries in the disciple-making mission of the Church will do far more good for her community than any other group. Our bread points to the Bread of Life; our water points to Living Water; and our love points to God's Love. We have the mission of Christ to boldly speak about this connection, not simply to assume it. When God opens hearts and changes minds through the sharing of gospel truth, the grace of God lifts people from the mire of sin and changes their hope from temporal to eternal.
Using I Corinthians 9:19 ("For though I am free from all, I have made myself a servant to all, that I might win more of them."), Kyle derives three principles for cultural engagement with the culture of generational poverty:
#1: We Are Free to Live Outside the Culture of Generational Poverty

"For though I am free from all…" There are thousands of cultures and subcultures in this world, and all of them have unique qualities. In Christ, we have the freedom to choose whether or not we want to let those qualities be part of our lives……

#2: We Have the Freedom to Make Ourselves Servants to the Poor

"…I have made myself a servant to all…" Paul uses his freedom to place himself within the culture of the people he loves. Paul was a Jew, but in Christ he was no longer bound by Jewish laws…Paul studied foreign cultures, so he could come alongside people and serve them. Our Christian freedom allows us to learn other cultures and enter into relationships with other people. We are not culturally bound because our faith in Christ is not culturally bound. We have the freedom to enter into the culture of generational poverty. But why would we do so?

#3: Salvation is Our Motivation for Becoming Like the Poor

"…that I might win more of them." The motivation to love others and do good deeds in the Christian life is always the proclamation of the gospel, and compassion ministry with the poor is no exception. This is not to say that all who are poor are separated from Christ and in need of conversion. On the contrary, Scripture's general thrust seems to indicate that more of the poor will enter the Kingdom of God than those who are rich, who will have a particularly hard time seeing their need for a savior. But this provides all the more reason for the church to proclaim the gospel as it builds relationships and ministers alongside the poor in their community. Jesus came to proclaim good news to the poor (Luke 4:18), and so should his church.
Kyle is available, he says, for training to help churches do this kind of cross-cultural compassion ministry. More information on that, and some questions for your church to ponder, are over at KPN. Check them out!
(Image: KPN).