This is the second in a series of ten posts featuring artwork from the Christians in the Visual Arts exhibit, "Work: Curse or Calling?" Many thanks to Margot Rogers and CIVA for allowing us to feature these beautiful, intriguing, and challenging pieces here at MISSION:WORK.  Please check out CIVA's website for more information on scheduling the exhibit for your own church, school, or workplace, and to see the other images from the exhibit (there are 28 in all.)  Today's featured work is:
The Slow Work of God
Deborah Risa Mrantz (Santa Fe, NM)
Fused media; digital substrate laminate to black aluminum
2009
30" x 21"
Deborah Mrantz's graphic art, The Slow Work of God, combines typography and iconography "visually sculpting the language of God's word." By including the sixth century Byzantine Sinai Christ Mrantz gives the work its punch. It visually stops the viewer in their tracks just long enough to allow God's presence to infiltrate the soul. The intense gaze of the Sinai Christ evinces the skill of the Constantinopolitan artist intended to yield a direct and powerful connection with the viewer. The flat angular shapes and text work in concert to coerce the eye toward the icon and chart the often slow, but amazing work of God.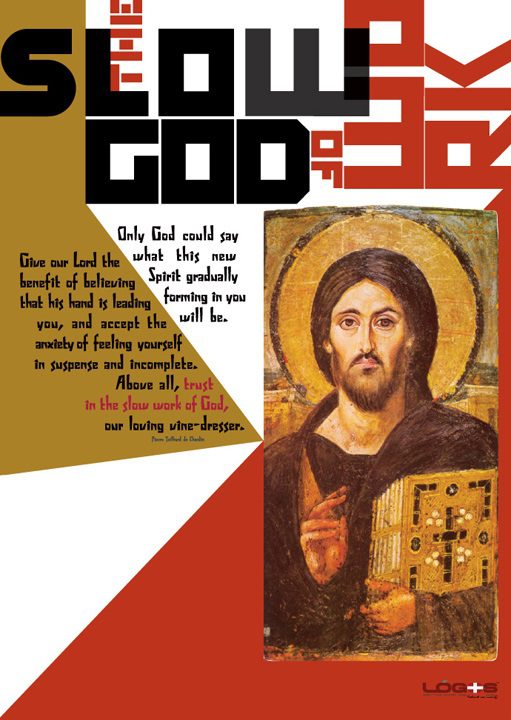 Previous posts in this series:
---