By J. Fletcher Lowe; preached on Labor Day 2017
I have a friend named Bill Diehl.  A few years ago, he retired as an executive with a major steel manufacturing company here in the East.   He also was a devoted Lutheran, having served not only on his parish and regional levels, but also on the national church level.  As he reflected on his life, he realized that he had been honored in many ways for his service for the Lutheran Church, but not once had the church ever recognized his professional work as a steel executive.  In his reflections on this he faulted the Lutheran Church for its lack of interest in the very place where he spent most of his God-given time and talent.  He even wrote a book about that experience entitled Thank God, it's Monday.  In it he shares not only his journey, but how key to the Christian life it is to connect one's faith with one's daily life.
Tomorrow is Monday, but also Labor Day Monday.  Today is Sunday of Labor Day week-end.    Aside from it being the last hurrah of summer, the last week-end before many schools reopens, the weekend for more hot dogs and hamburgers, the last time our neighborhood pools are open, and the last days women are supposed to wear white, its origins go back to labor.  And a question for us as Christians on this week-end is what is the connection between liturgy and labor, between Sunday and Monday, between worship and work, between faith and daily life. This week-end opens up for us the opportunity to explore- each one of us- that important connection. How do you connect the one with the other?  
Now let's expand labor to include not only the work some of us do in an office or school or hospital- our place of work, but whatever we do that occupies our time, like washing the dishes, like mowing the lawn, like doing homework, like tending a baby, like times of intimacy, like swimming in the pool, like serving on a board- you get the picture.  Martin Luther once said, whenever you wash your face remember your baptism.  I want to expand that: whenever you wash the dishes remember your Baptism or when you prepare a meal remember your Baptism or mow the lawn or serve on a board or go to bed or read the paper, remember your Baptism.  I use the word Baptism because that is the root of it all.  It is your Baptism and mine that commissions us not only to go to church, but to be the church in our worlds of home and job and community.  It is in our daily lives that we make the connection with our faith.  And remember, God is just as interested in what we do on our Mondays as God is on what we do on our Sunday mornings.   That's what the Incarnation is all about- God becoming flesh and dwelling among us.
An important metaphor that some of you have heard me use before is the base camp.  Think a minute about how a base camp supports the hikers.  Notice too that it is not the destination, but a way station on the hikers' journey.  It exists for the good of the hikers.  The hikers don't exist for the good of the base camp.  Translate that to a congregation. e.g. St, Matthias.  It exists to support, equip, empower, affirm you as its members in your daily lives at home, in the community and at work.  You do not exist to make the congregation work better, except to serve you to make your journey better.
This transition is not always an easy one for us to make.  We are conditioned to see the congregation as a focus of our ministry.  In church, we talk about lay eucharistic ministers and some congregations call their committees their ministries.  We all too often view clergy as having the real calling, the real vocation, the real ministry. All well and good, as long as a congregation sees that the real ministry of its members is not in the congregation but in the individual's daily life.  
Over the years of my ordained life I have visited more than 300 parishioners where they "work," including community volunteers and stay at home parents.   Sometimes my arrival at a person's place of business with my clerical collar on raises questions as to what might have happened in the member's life to necessitate their priest to come where they work.  But the point has been to talk about the Sunday-Monday connection.  For the vast majority, like 85 %, it is the first time that that question been raised.  Is that not an indictment on the church, that the church has not shown interest where most people spend most of their God-given time and talent?  Back to my friend, Bill Diehl.  For some they do have a sense of their work being their ministry, their calling, their vocation.  For the vast majority, though, the connection is open to discussion.  In those conversations for many, it becomes an AHA as it did for a lawyer with a large transportation company here in Richmond.  Let me share with you her reflections:
It was a revelation to me! I tended (and still tend, it's hard to re-train my brain after 48 years), to view "God's work" as what the priests and choir directors and youth ministers and Mother Teresas of the world do. I viewed the "work world" as separate from the "faith world".  To my mind, God's work is things like tutoring at Woodville, serving guests at CARITAS, even writing a check to the Carpenter's Kids. It turned that assumption on its ear to see that maybe simply applying the talents God gave me is, in fact, also doing "God's work". As dry and un-faith-like as writing up a contract sounds – it did seem possible that somehow that type of work might also serve God's purpose.
Byron Rushing, from MA and the Episcopal Church's highest ranking lay person, being the VP of GC's House of Deputies put it directly.  If Jesus were not in the MA legislature, I wouldn't be there either.
So on this Sunday of Labor day week-end, let's take the opportunity to reflect on the connection that you make with Monday.  How do you translate your faith into your daily life in your home, in your community, on your job?  Whatever you do in your day to day living is just as much God-work as anything you do in church.
I am so glad that you have your Baptismal font close to the rear of your church building- near the door. You can put your hand in it as you come in for worship, but I would like to suggest that it is more important to do it as you are leaving the church building- as a reminder that your real calling is outside the door, that you have been sealed by the Holy Spirit in Baptism and marked as Christ's own, not only forever, but is everything you do. That is why the Dismissal of the liturgy is the key to the whole service.  Think about it a minute. We have been enriched by scripture, prayers and sermon and nourished by the body and blood of Christ- for what reason- to hit the streets, to go forth in the name of Christ.  
One Sunday morning a man came running up to the Church doors just as the service had ended and the rector was greeting the people at the door.  Out of breath he asked, when does the service begin?  Before the rector could answer, an astute woman said, the service begins now.  So we go to church in order to be dismissed to be the church in our daily lives.
Pause with me in the silence of this building and reflect on the connection you make with Sunday and Monday, with faith and your daily life.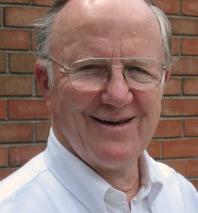 J. Fletcher Lowe is the convener of Episcopalians on Baptismal Mission, a group of lay persons, priests, and bishops committed to promoting the ministry of all the baptized in their daily lives. Rector emeritus of Holy Comforter Episcopal Church in Richmond, Virginia, Fletcher is the author of Baptism: the Event and the Adventure, co-editor of Ministry in Daily Life, and co-author of Radical Sending.