After converting to Islam, I struggled with my community's views on art, women and the combination of both. Having grown up in a society that prides itself on a variety of artistic movements, and being part of a very artistic family, I felt uncomfortable accepting my Muslim community's idea that art is prohibited in Islam.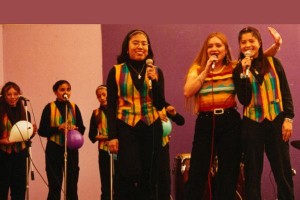 Growing up, I was part of a children's musical show that played music specifically for children. Being a child singer was a great part of my life from age four to eighteen, when I moved to Canada. My family greatly encouraged my artistic skills because my grandfather loves painting, my aunt is a musician, and my dad can be often be found playing guitar and singing. Thus, through my journey in Islam I was really happy to see that Muslim women have been a vibrant piece of the world of "Islamic Art" despite some communities' views on music, painting, photography and the like.
From music to fine arts and fashion, I am glad to see Muslim women flourishing in these realms not only because it challenges the restrictions that some communities try to impose on us, but also because I believe that art makes our lives happier and better. In the past few weeks, MMW has explored Muslim women's role in the music industry through Sharrae's interview with Tanya Muneera Williams and Sukina Owen-Douglas and Yasmin N. Ali's singing. Similarly, Rana showed us how the art scene looks like for Muslim women in Ottawa, Canada.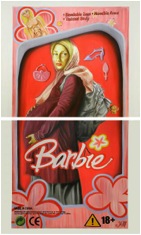 I thought I would add to that through a trip to the online exhibit "Muslima: Muslim Women's Art and Voices," hosted by the International Museum of Women (IMOW). The collection, which was launched last March, has received a lot of attention from sources such as the Huffington Post, The Economist and the Islamic Arts Magazine. The collection's curator is Samina Ali, the author of Madras on Rainy Days. In my view, the project is very innovative. It features works from Muslim women and non-Muslim women from all around the world. In the Curator's Statement , Ali states:
"The best way to explain the exhibition's groundbreaking nature is through its title, Muslima. In Arabic, muslima is used to indicate a woman who believes in God and upholds God's values, such as prayer, charity, fasting, kindness and mercy. In the way I've written muslima here, it's singular: one female. This is intentional."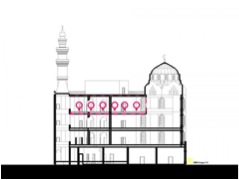 The exhibition also features non-Muslims, since Ali makes a point of inviting and including those who believe in a higher power.
Ali's reasons for the exhibition are powerful as she states: "My hope is that this exhibition will begin a new discussion about the realities of what it means to be a Muslim woman today. " Browsing through the gallery one can choose to visit the links to different topics such as Faith, Leadership and Change among others. One can also select different regions around the world, which makes this site very user friendly.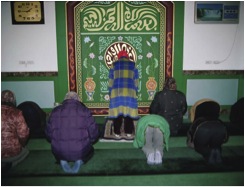 While looking through the gallery I was amazed with all the different images, colors and experiences… There are pictures, Islamic calligraphy, colorful paintings, innovative photographs and even fashion statements. The project continues to call Muslim women to add their voices and experiences. Muslim and non-Muslim women are invited to collaborate, get involved or/and donate to this project. There is also a link where women can tell their stories. I greatly enjoyed browsing through the gallery because I felt a point of connection with fellow sisters around the world. The stories and images further invited me to reconcile my artistic side with my identity as a Muslim and a Latin American woman. I am hoping the project will continue to grow and more Muslim women will venture into sharing their art with the rest of us. Who knows! Maybe I will go back to singing!