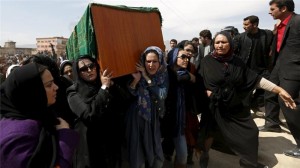 In an interview with the Huffington Post, Amani Al-Khatahtbeh, CEO of Muslimgirl.net, explains how Muslim women are 'spoken over by the public' and their voices 'ignored.'
In a rare protest in Afghanistan's male-dominated society, female rights activists in Kabul carry coffin of a woman beaten to death for allegedly burning Quran to graveyard.
A Muslim woman left severely shaken by a physical and verbal assault on a packed Sydney train this week believes she was targeted because of her religion.
The Muslim's world first female erotic novelist: The Pakistani anonymous author has penned a new book, but lives in fear of reprisal for her writings that celebrate female sexual pleasure and castigate "Arab arrogance" and subjugation of women.
A Brazilian Muslim law student was humiliated while taking the Brazilian bar exam, for wearing hijab, reflecting soaring level of intolerance toward the Islamic headscarf in Latin America's largest economy.
Amara Majeed founded a website called "The Hijab Project," aimed at combating discrimination against Muslim girls and women who wear head-scarves in public.
Muslim women who are tired of being told their religion dictates subservience to men, are fighting to redefine Islam as a religion of equality.
Turkish academic Hidayet Tuksal has made a reputation as an Islamist feminist, studying religious texts and challenging Islamist notions that marginalize women.
In light of the niqab controversy in Canada, many women, like Zunera Ishaq, are defending their religious freedom as well as her right to individual liberty.
With talk of teenage girls being radicalized by groups like ISIL and hijabs being banned in France, it's a hard time to be a young Muslim woman. But Dina Torkia is doing her best to change the way they are represented, saying it's time everyone understood "we're just normal women"
In Saudi Arabia, micro financing and fathers are empowering Saudi women; research finds out.