Last month Canadian social media went wild with covering puns and jabs at the extraordinarily Islamophobic leader of the government, Prime Minister Harper. The Harper Government are challenging a ruling by the Supreme Court of Canada that allows Ms. Zunera Ishaq to wear her niqab at her Canadian Citizenship ceremony. A ruling that Harper insists he will challenge. According to the Prime Minister, Ms.Ishaq's choice to wear niqab, as a practice of her faith, is unacceptable and baffling while joining the Canadian family.
"It's very easy to understand," said Harper in the House of Commons. "Why would Canadians, contrary to our own values, embrace a practice at that time that is not transparent, that is not open and, frankly, is rooted in a culture that is anti-women?"
For just one moment, let's ignore the tragic irony (read: hypocrisy) that is Prime Minister Harper dictating what is allowable for women to wear. In his usual arrogant and misogynist tone, he declares that a woman in Canada, who chooses wearing niqab, should not be supported by fellow Canadians. Prime Minister Harper and his cronies, namely Defense Minister Jason Kenney and Citizenship Minister Chris Alexander, often make ridiculous and misinformed statements about Muslim women's clothing. Let's for another moment, imagine that Canadian women are perfectly fine with choosing their own clothes based on the Canadian Charter of Rights and Freedoms and well, basic fashion savvy. Immediately, Canadians took to their laptops and phone and took up a rallying cry of unapologetic wit and sarcasm with the hashtag #DressCodePM As important and hilarious as the tweets and posts are, a huge piece of this campaign is the #ListenNotSave hashtag that is reminding us to call out disingenuous rhetoric by the Harper Government under the guise of caring about the marginalization of women. The same Government that has failed to speak up and investigate the cases of over 1000 missing and murdered Indigenous women in Canada. #ListenNotSave was originally created by women of colour to speak to the injustices of Bill S7, the Barbaric Cultural Practices Act. #ListenNotSave was also a call to amplify the voices of the women who are being spoken *of* and not *to*. In the same way that at MMW we have extensively covered the topic of 'saving' Muslim women by ineffective policies and by saviourism. Tasnim, Eren and I read and reviewed Prof. Lila Abu-Lughod's brilliant work in "Do Muslim Women Need Saving?" This book is a must-read for politicians and public representatives. Particularly those who engage in meaningless discussions about Muslim women's choice of dress. Although Prof. Abu-Lughod's focuses primarily on women in Muslim-majority countries the themes of neglecting to work and communicate with or provide adequate platform and agency to Muslim women, is strikingly similar to the actions and thoughts of the Canadian government. They are ignored and overlooked often by men who disregard their opinions and ideas and decide what is the most beneficial for them based on some outdated and irrelevant experience. Another important theme in the book, one that I covered in my piece, was the politicization of Muslim women and how a mission to 'save' them is used to score points with a caring public and garner support for political or military campaigns. This is precisely what is occurring in Canada. We are a few months away from a federal election and Stephen Harper, has decided that in addition to fearmongering with an Islamist boogeyman, he will pretend to care about Muslim women. Laughable and enraging.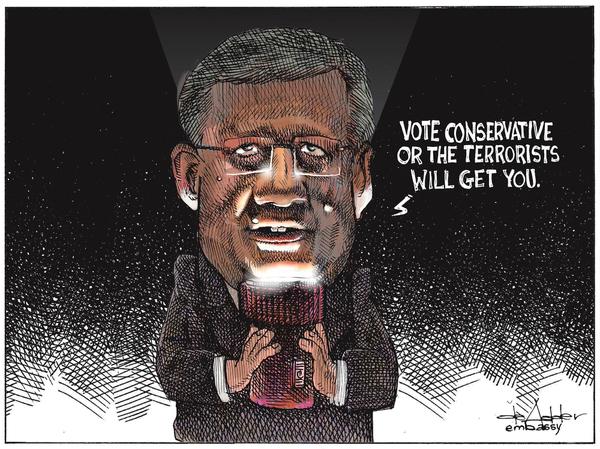 Fortunately, the caring public will have none of his shenanigans. People simply refused to accept Harper attempting to police women's bodies in 2015. #ListenNotSave was not as widely represented as #DressCodePM although both are equally important in this debate. This is not only an issue affecting Muslim women- it is a feminist issue. For a white, male, privileged man to decide what it OK for women to wear is unacceptable and intolerable. Muslim women and allies were requesting that also go viral and draw attention to the voices of..wait for it…niqab-wearing Muslim women. It could be argued that mainstream media tells us that voices of Muslim women are not really relevant in discussions about Muslim women. #hijabdesk But, in a wonderful turn of events, Muslim women and their tweets were not only getting face time and exposure, their voices really influenced the opinions of those who had never heard them before. Mindboggling. Gerald Caplan, of the Globe and Mail, wrote about his experience of hearing the intelligent and strong opinions of Muslim women for the first time.
"These glimpses are revelatory. They destroy every single assumption I made, in my ignorance, about niqabis. I strongly urge everyone to check out these sources for themselves. Given the government's hysterical fear-mongering, we all owe it to ourselves to know these women better. We can safely assume that no member of the government ever has done so, or how could Jason Kenney, another renowned authority on Islam, dare say that face coverings are a "pre-medieval" tradition "that has been imposed on some women."
The Toronto Star published an opinion piece from the woman who is the veiled thorn in Harper's side, Zunera Ishaq. She writes: "While I recognize that it's not for everyone, it is for me. To me, the most important Canadian value is the freedom to be the person of my own choosing. To me, that's more indicative of what it means to be Canadian than what I wear." Although the comments after her article are often hateful, her voice was published at Canada's largest daily circulated newspaper. And to say it did not provide clarity is ridiculous. Aysha Luqman-Pandor, a woman living in Ontario, penned a piece for TheTyee.ca in which she explicitly detailed how wearing niqab was her choice and one she was proud of. The Current, a popular radio program on CBC radio, featured a segment with two two-niqab-wearing women and a woman in hijab. This was the first time, subjects at the center of this debate were invited to speak about their opinions. This issue is still producing a hotbed of opinions for and against niqab that are often accompanied by Islamophobic remarks. Or even supportive in a reductive manner. (*note to self: do not read the comments!*) The reality is that asking women what *they* think and what *their* beliefs are is critical in these discussions. I am not pleased that this issue is being debated in the House of Commons at all. I am duly unimpressed that some Canadians think it is acceptable to have an opinion what a woman chooses to wear. I am, however, pleased that media in Canada looked to voices of Muslim women instead of away from them while covering this story. That would be *listening* and not overlooking and attempting to save women. Who, sorry Harper, are not actually in need of saving after all. Editor's note: This piece has been updated to provide more details about the origins of the #ListenNotSave hashtag.