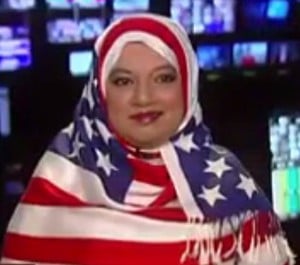 Saba Ahmed, the founder of the Republican Muslim Coalition, appeared on Fox News in an American flag hijab. See the BBC news article here (as I refuse to link to anything going to Fox News) and if you want to buy her hijab, Forbes has let us know it is ten dollars and can be bought in Times Square (more here, in Mic)
A customer in hijab
was denied entry
into a Zara store in France.  As a reminder, the various French laws on head coverings only apply to public buildings and schools.
In Switzerland, the man behind the
anti minaret referendum of 2009
, Oskar Freysinger, has announced he is running for one of Switzerland's seven executive seats, the Federal Council, following the resignation of Eveline Widmer-Schlumpf after her party's major losses in the recent parlimentary elections. Luckily for the rest of us (okay, me), linguistic tensions (article in French
here
) may mean that his candidacy is a Donald Trump-like front to get a Swiss German in there instead.
Bill Maher is crapping on Islam and Muslims as he is wont to do, and
a piece in Salon
by Sonia Saraiya calls him out on it, sort of (as an aside, of COURSE Asra Nomani was on his show…OF COURSE *headdesk*).
[Article in French] French politician, Marine le Pen, was
caught live on radio in a series of contradictions
during her efforts to recuperate what she could from the attacks in Paris, notably by accusing Justice Minister Christiane Taubira of saying that "one must understand why young kids run off to Syria," which of course, she did not say. And of course, when she got called out, she promptly left the studio.
Closing a chapter on the Harper era, Justin Trudeau's government
has chosen not to appeal
to the Canadian Supreme Court regarding the case of nib during a citizenship oath. It is still the honeymoon period, and I got my eye on you, Jay-Quellin.
Spreading like a cancer and even though there are so many other useful things politicians could be doing with our time and tax money,
now it is Luxembourg's turn
to start thinking about a niqab ban (article in French).