We witnessed, Thursday night, a historic moment in the LGBTQ Christian movement. To build upon its mission of being a fully inclusive community, The Gay Christian Network announced a name change at its annual conference in Denver, Colorado. In front of more than a thousand attendees, it was renamed Q Christian Fellowship.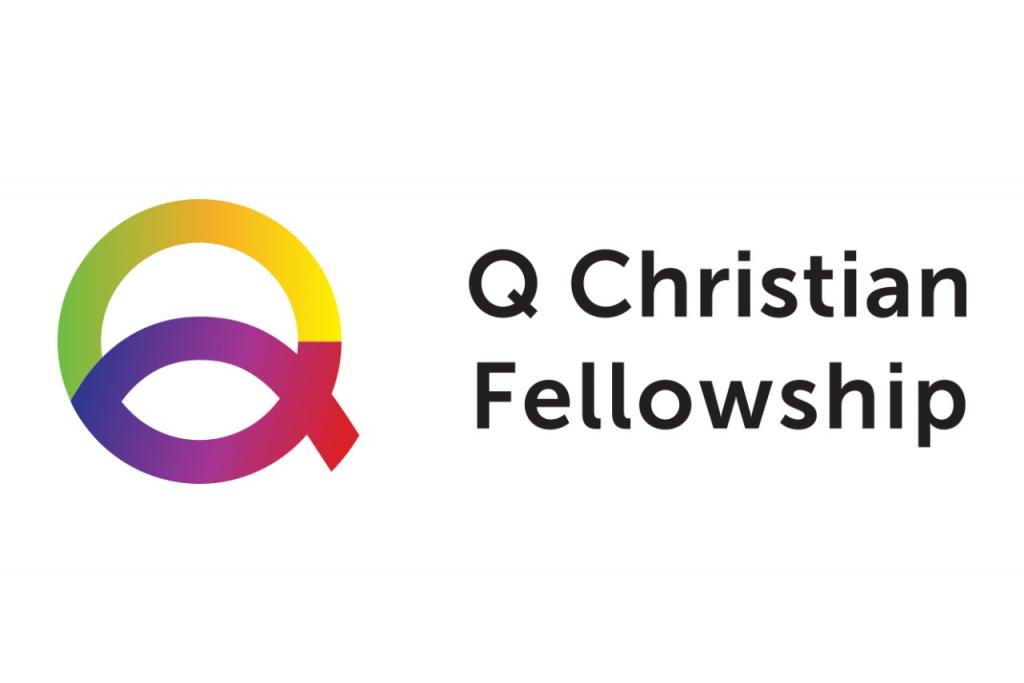 Invoking the tradition of name changes in scripture, from Abram and Sarai becoming Abraham and Sarah, to Simon and Saul becoming Peter and Paul, Programs Manager Kyle Franklin led a beautiful name blessing ceremony. "As Jesus' baptism signaled a new chapter in his life and the public proclamation that Jesus is God's son," he said, "today we proclaim that Q Christian Fellowship is called by God to continue the work of ministering to the LGBTQIA Community. We proclaim that all LGBTQIA people are made in God's image, wholly and completely loved, and chosen as children of God, our Creator."
Founded in 2001, Q Christian has become one of the most prominent voices leading the conversation on sexuality and faith. It has been a particularly meaningful organization for us, and it has had a deep impact on our lives. We met—and perhaps felt the first spark of love—at a Q Christian event in California many years ago. We've also met some of our dearest friends through Q Christian, and our hearts have been filled by the opportunities we've had to serve the organization as volunteers over the years. Constantino even served on staff for a season during which he came to appreciate the loving hearts of those in leadership—he stepped down last fall to resume the pursuit of his personal career goals.
In its early years as GCN, the organization drew mostly white gay men from evangelical backgrounds. However, the population of attendees at the group's annual conferences has gradually shifted to include others within the LGBTQ community and other minority populations: more women, people of color, trans and non-binary folks, and even those who defy labels.
The organization will continue to welcome a diversity of opinions on sexuality. Most notably, they assure us that they are committed to continuing the conversation between "Side A" and "Side B" Christians about whether God's plan includes same-sex relationships or whether gay Christians are called to celibacy. As a married couple, we are firm in our Side A convictions, but we have also both always striven to respect and honor our LGBTQ friends whose conscience leads them to Side B. We were glad to hear Q Christian will continue to welcome them at the table.
"Q Christian Fellowship, with Christ at its very center, will continue to live out its mission statement, specifically aiming to foster self-acceptance and build supportive communities," wrote Interim Executive Director Isaac Archuleta in an email. "Q Christian will continue to be a safe place for the LGBTQIA community and a safe place for our community to ask challenging questions. Beyond this, we intend to stand firm as one unified body that primes the Christian Church to love openly all of God's children, by exemplifying a fellowship of undeniable love. Q Christian Fellowship is a bold name for a bold inclusivity."
The annual conference, which continues through Sunday, celebrates the theme "We Exist, I Belong." It is typically one of the world's largest annual gatherings of LGBTQ Christians and allies. Speakers this year include bestselling writer and pastor Nadia Bolz-Weber, pastor and Christian LGBTQ icon Yvette Flunder, pastor and the first trans person ordained in the Lutheran church, Asher O'Callaghan, and writer and speaker Julie Rodgers.
Changing its name is indeed a bold step for an organization. We are encouraged by Q Christian's courage, and we love the forward-looking name they have chosen. "Q" makes us think of "questions"—bringing to mind an audacious faith that doesn't fear the unanswered. "Q" recalls a mathematical variable, reminding us that we are all part of the equation. "Q" honors the marginalized, bringing forth the witness of the queer community. And "Q," sounds like a cue: A cue to follow the revolutionary teachings of Jesus; a cue for genuine fellowship; a cue, in a world where so many religious leaders have lost the way, to reclaim the word Christian.
Q Christian's new website is www.qchristian.org.