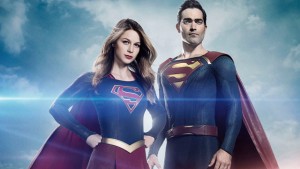 Superman has arrived on the scene in National City and Kara is enjoying working together with her cousin. To my surprise, the people who aren't enjoying this are Hank and Alex.  Hank isn't enjoying it due to the fallout he had with Superman and they don't agree with what to do with the mysterious Kryptonian who causes periodical outages throughout the building.
Thanks to Cadmus, John Corben has been recreated into Metallo. He shows up again on the bridge, luring the SuperCousins into a trap. After getting defeated by Metallo, the two head back to the DEO and find out about a shipment of kryptonite that went missing. Cadmus reveals themselves to the world in a hijacked message. Winn gets to work on creating anti-kyptonite armor.
Meanwhile, Kara is excited about her new job as a reporter. Unfortunately, her new boss is not exactly as perky as she is. Snapper Carr is not as young or as happy-go-lucky as his comic book counterpart, but he does make angry snap judgments. He wants Kara to prove herself as a reporter, telling her to earn her job. Cat Grant, of course, won't take any of Kara's whining, either, telling her that she's taking a leave of absence. Kara admits that she doesn't do well with change, which is something I can totally relate to. The two of them share a heartfelt hug and I realize that it's for the best that Cat leaves because, as I stated before, Kara needs to learn how to stand on her own as Kara Danvers as well as when she's Supergirl.
Kara goes home with her sister and contemplates moving to Metropolis to be Clark's sidekick. Alex calls Kara out on the idea of running away from her problems. Alex points out that she made a lot of sacrifices to protect Kara, including giving up medical school. Kara gets a call from Clark who identified the metal skeleton as being made of Prometheum. The SuperCousins finds Metallo under a bridge, but it turns out to be a trap, as there is another Metallo in Metropolis, attacking Krypton Park.
Alex complains to Winn about her anger towards Kara, but Winn, as a former foster child, reminds Alex that she shouldn't act so entitled towards Kara. The two of them then realize that Kryptonite leaves a radioactive residue and quickly figure out who gave the Kryptonite to Cadmus. Supergirl returns, only to find out that Alex set the mole up…only to get ambushed by Cadmus. Alex stands up to Cadmus, pointing out that she managed to kill a Kryptonian, but isn't blinded by their extreme prejudice against aliens. Supergirl rescues her sister and the two apologize to each other. The two of them then get the idea to team up. And thankfully, Winn's armor is ready to go.
Alex and Kara team up to take down John in National city while Martian Manhunter and Superman take down the other Metallo in Metropolis. I also love that Alex is wearing the armor she originally used to fight Supergirl from last season. The fight scenes are awesomesauce with both Metallos keeping the Supercousins on the ropes. Thankfully, Martian Manhunter and Alex are able to take the Metallos down. Supergirl sends a message to Cadmus that she is ready for them while the lead scientist is all "Bring it on."
Supergirl goes to CatCo to wish Cat all the best for her leave of absence. She tells Cat to visit sometimes and then changes back to Kara to return to her job. James Olsen takes over Cat's old job as CEO of CatCo and Kara submits a report about the Metallo attacks to Snapper, putting on her best tough face. It's left to be seen if Snapper has a heart of gold underneath his jerk exterior, but I like him so far.
Hank hands over the kryptonite to Superman. Winn gets to hug his idol and Supergirl hopes that they can team up again soon. Clark lands safely in Metropolis and gets a call from Perry White. Meanwhile, Kara sits at the side of the mysterious Kryptonian who wakes up and grabs her by the throat, ending the episode.
This episode pushes things forward. I'm glad that Kara doesn't have to worry about standing in Superman's shadow. And thankfully, Superman doesn't outshine our leading lady at all. It's sad to see Cat go due to Calista's refusal to work outside of LA, but Snapper Carr will be a good character to get to know, especially since he's different from his comic book counterpart. I just hope that the mysterious Kryptonian won't be some stupid love interest for Kara because SuperFlash ship aside, it feels very, very contrived and way too convenient.