Today's guest post is written by Nick Einbender. Opinions shared on guest posts may not completely reflect the positions of the blog's author.
Nick and Spencer Mickelson met at the annual Affirmation Conference in 2014 and, as they say, the rest is history. Nick is a dentist in the United States Air Force and Spencer works as a fitness instructor in addition to several creative pursuits. Recently relocated from Hawaii to Washington DC, Nick and Spencer regularly attend church, are open about sharing their experiences as gay LDS, and are dedicated to the creation of a safe place for all to worship together.
With the theme this week being sex positivity, I wanted to share this incredibly touching report from a gay LDS man and how he and his partner have been treated in their home ward that they are currently moving away from. In spite of harmful and exclusionary policies, beliefs and practices taking place in our Mormon community in regards to our LGBTQ+ brothers and sisters, this ward found ways to love, include and exemplify Christ's teachings in what could have otherwise been a hostile and discipline-focused environment. May we honor this example. May we move towards it. May we look to a day where all will truly be welcome to accept Christ's invitation within the LDS Church to fully "Come Unto Me." *
At the end of today's sacrament meeting, the bishopric invited Spencer and I up to stand in front of the congregation. The entire congregation stood up and sang "Aloha Oe" to both of us. I buried my face in my hands and sobbed uncontrollably the entire time as Spencer stood by my side with his arm around me. Words cannot describe how tender and sweet of a moment it was for us. Even after, the line of people who came up to give us hugs and kisses on the cheek and put leis around our necks while wishing us well on our next journey was overwhelming.
The Manoa Ward has been our spiritual home for several years now. We have been welcomed and loved as an openly gay couple and as fellow Latter-day Saints. In Elders Quorum, one of the members of the bishopric stood up in front of the class and with a crackling, emotional voice expressed his love and appreciation towards Spencer and I for being in the ward and for what we have taught everyone and for what we have contributed — the Spirit that we possess. He expressed that the singing of "Aloha Oe" in sacrament was one of the most special and emotional ones he has ever witnessed and that there weren't many dry eyes in the congregation. Again, tears streamed down our faces and my heart was bursting with gratitude and thankfulness.
At the end of the meeting, the Elders Quorum President came up to me and took off his tie and gave it to me along with a big hug. This is the same man who had to reluctantly tell me a long time ago that I couldn't go on splits with the Elders Quorum anymore due to the circumstances of me being in a gay relationship and the church's policies. He hated having to tell me that and was more than compassionate and understanding when doing so.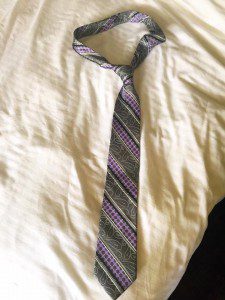 I'm sure there are plenty of differences of opinion and understanding among us all. However, the language spoken to us here has been love. We cannot adequately express the amazing experiences we have had in our congregation, we leave a piece of our heart here in Hawaii with our friends and family and our church. I'm so grateful for my time here for reasons too numerous to convey.
"Aloha Oe"
Proudly swept the rain cloud by the cliffs
As on it glided through the trees
Still following, with glee, the liko
The a hihi lehua of the valley
Farewell to you, farewell to you
The charming one who dwells in the shaded bowers
One fond embrace,
'Ere I depart
Until we meet again
Sweet memories come back to me
Bringing fresh remembrances
Of the past
Dearest one, yes, you are mine own
From you, true love shall never depart
Aloha, oe, aloha oe,
E ke onaona noho i ka lipo
One fond embrace, a hoi ae au,
Until we meet again
*I want to honor Nick and Spencer for their ability to stay engaged in a community that often is quite toxic for the majority of LGBTQ+ members. And I want to honor this ward they speak of. I do not want to imply by posting this story that LGBTQ+ members should feel pressured to stay engaged with the LDS Church. Mental, physical and spiritual health and self-protection need to come first. And the LDS Church, for the most part, is not currently providing a safe space for these members. So, if you find yourself in a place where you cannot flourish, know that I and many others honor your decision to not stay in an abusive environment.
Natasha Helfer Parker, LCMFT, CST can be reached at natashaparker.org. She authors the Mormon Therapist Blog, hosts the Mormon Mental Health and Mormon Sex Info Podcasts, writes a regular column for Sunstone Magazine and is the current president of the Mormon Mental Health Association. She has 20 years of experience working with primarily an LDS/Mormon clientele.