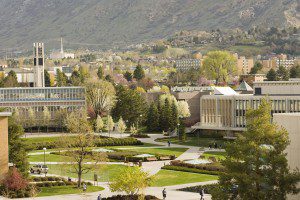 I am extremely heartened by the changes we have seen announced last week, October 26, by Brigham Young University after an investigation was launched into how they were previously handling cases of sexual assault. Among some of the most important changes:
Title IX workers, who help provide services to sexual assault victims, will be located in an entirely different office than that of the Honor Code,
Information taken by the Title IX office will not be shared with the Honor Code office,
New positions will be created that are focused on confidentiality and victim support, and
Adopt an amnesty clause
I want to remind the general public, that women like Madi Barney, Kelsey Bourgeois, and many others, who take great personal risk to courageously stand up against aspects of our community that would support such things as rape culture, are to be honored and respected. It is only as women came together, accompanied by male allies, to decry the abuses that were taking place that we have seen dramatic changes occur. This is what advocacy work is about. And organizations, churches, communities, families and individuals are all better off when we have social justice advocacy among us. A thank you to Brigham Young University for taking this issue seriously, for implementing some of the recommended changes immediately and for being adequately transparent in its process. Although I still hold them responsible for not coming to these conclusions prior to a public outcry, I am heartened and encouraged by how they have handled the situation thus far. And I hope more will be done, in particular with the intersection of ecclesiastical leaders (especially bishops) who are often first-responders to hearing of sexual trauma in local congregations and how they will be trained and included in the reforms that need to continue to occur.
Change can and does take place. Even in Mormonism. As it should. Especially given our wonderful doctrinal understanding that revelation and higher learning is an ongoing process; dependent on and limited by people's abilities to check their own biases and cultural framings. After all, we are told we will only receive more knowledge and truth when we are prepared for it. What an amazing doctrinal challenge for all of us to ponder! I would hope as Latter-day Saints that we would always welcome advocacy and change as part of the positive journey we call "eternal progression."
BYU completes study on sexual assault and implements recommendations
Honor Code Amnesty is just one part of BYU's 23 Steps for Addressing Sexual Assault
Natasha Helfer Parker, LCMFT, CST can be reached at natashaparker.org. She authors the Mormon Therapist Blog, hosts the Mormon Mental Health and Mormon Sex Info Podcasts, writes a regular column for Sunstone Magazine and is the current president of the Mormon Mental Health Association. She has over 20 years of experience working with primarily an LDS/Mormon clientele.