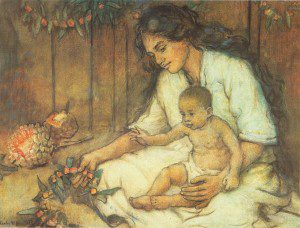 Mother's Day can be both a wonderful and difficult day for many and it's complicated sometimes to know how to honor the many journeys everyone is on, while also wanting to validate one's own.
I came across the following tribute on Facebook yesterday and it was so touching to me that I asked it's author if I could publish it as a guest blog on this venue. He acknowledges the many types of mothers we celebrate, and honors his ex-wife and mother-in-law in the process. I believe this is a wonderful example of empathy and thoughtful intention as this man wrote out his thoughts yesterday.
May you all have enjoyed this past weekend in your own unique ways is my hope.
Today's guest post is written by Blue Haught. Opinions shared on guest posts may not completely reflect the positions of the blog's author.
Blue Haught is a divorced Father of 6 (4 living), former Mormon, Director of Surgery, Arizona native, and avid outdoorsman.
I wanted to spend some time today with my mom. I know I'm a little weird, but the family cemetery is one of the most peaceful places in my life. I gain strength, perspective, and peace from going there. Like many, I feel like there was no greater woman than my mother. She left us far too early! I love Mothers Day despite not having her here. I like that I have an "excuse" to spend the day thinking of her.
I can't help but also feel gratitude for the mother of my kids. Kelly has been such an amazing mother and I'm glad they have her! She has suffered tremendously in losing our children so close together. It's such a maddeningly beautiful symbology that two of our babies are buried next to my mom. I love the imagery with that.
There are a lot of people on my mind today. For some, this day is the worst day imaginable and they dread all the reminders. My heart goes out to you. A part of me thinks not to post anything simply to honor the struggle that this day brings. Whether because of death or infertility or traumatic experiences I respect those who feel so much pain and loss on this day — my heart goes out to you.
I also think about the mothers who have suffered miscarriages, stillborn, infant, and child loss. Though I know the despair of being a grieving father for my dead children, I can't say that I know what it's like to be the mother of such. Your bond is so different and starts so much earlier. I just wanted to acknowledge your motherhood and existence of your children today.
I also want to wish happy Mother's Day to all my single parent friends. Many of you have been through hell and I am in awe of your strength and resilience. Many of you have suffered so much. I hope you feel loved today. Your children are lucky to have you!
Finally I feel immense gratitude for the women who have been like a mother to me. My former mother-in- law Susan comes to mind first. She has always treated me like a member of the family and still does. She's a remarkable woman and I'm glad my kids have her in their life! Francie, Doris, Catherine — you all have had an amazing, motherly influence in my life and I'm so thankful for you! Happy Mother's Day!
Natasha Helfer Parker, LCMFT, CST can be reached at natashaparker.org and runs an online practice, Symmetry Solutions, which focuses on helping families and individuals with faith concerns, sexuality and mental health. She hosts the Mormon Mental Health and Mormon Sex Info Podcasts, writes a regular column for Sunstone Magazine and is the current president of the Mormon Mental Health Association. She has over 20 years of experience working with primarily an LDS/Mormon clientele.