I wrote a post at the beginning of the week celebrating a video the church released showing a family being affirmative of their gay son and owning the many ways their ignorance and bias had harmed him and their family system. I was so moved and genuinely celebrated this step in the right direction that I know will make a difference in how Mormon families react to their coming out children.
I then found out that Elder Larry R. Lawrence of the Seventy writes an article in the upcoming April 2017 Ensign that talks about the sacred marriages of gays and lesbians as "counterfeit" within the context of a war with Satan and other very problematic imagery and rhetoric.
It is so disheartening to be on the ongoing rollercoaster ride we are currently experiencing as an LDS culture where our LGBT+ members continue to suffer greatly and tragically. So I plan to share several guest posts from a variety of Mormons along the spectrum of belief and activity in the coming weeks showcasing the harm we continue to engage in as an international church that should be a leader in these types of social justice causes… not part of the problem.
I thought I would start with a wonderful guest post by Lindsay Hansen-Park. She has been doing extraordinary work with our FLDS brothers and sisters… collecting their stories, supporting their communities, networking with resources, and aiding those who seek to leave an oppressive system (often a dangerous process). I start here to remind ourselves that we are not the people who can be the authority on the whole "one man… one woman" marriage idea. That is not the history we come from… nor the apostolic rhetoric we have written in our archives…
"We do not want them to force upon us that institution of monogamy called the social evil. We won't have their meanness, with their foeticides andinfanticides, forced upon us." – President John Taylor   Source: October 1879 General Conference
and
"This law of monogamy, or the monogamic system, laid the foundation for prostitution and the evils and diseases of the most revolting nature and character under which modern Christendom groans…" – Apostle Orson Pratt   Source: Journal of Discourses, Vol. 13, p. 195
We must own that the institution of marriage and the culture of marriage requires of us a complex history and a changing narrative that has been going on for millennia. And to smugly sit upon our pedestals and decry one type of committed relationship over another, in the name of God… especially given our very own polygamous past… well, it's ironic to say the least. Naive to give us the benefit of the doubt. And cruel if we want to put it bluntly.
The unethical abandonment of our polygamous cousins we have systematically engaged in as a church community in trying to distance ourselves from a doctrine we still practice in our temples… well, that's an entirely different mental health issue I'll address on some other post at some other time.
Today's guest post is written by Lindsay Hansen-Park. Opinions shared on guest posts may not completely reflect the positions of the blog's author. 
Lindsay Hansen-Park is a women's rights activist, a feminist blogger, and an advocate against gender violence. Lindsay is the Assistant Director for the Sunstone Education Foundation and the founder of the Feminist Mormon Housewives Podcast, best known for her work on the Year of Polygamy podcast which "follows the Mormon faith through the lens of 'The Principle of Plural Marriage' from its genesis in 1831 with its originator Joseph Smith, through the hidden history and governmental pressure, to today and contemporary practicing Fundamentalist Mormons."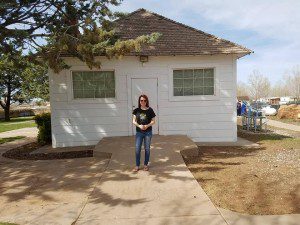 I had a once in a lifetime experience this past weekend that I'll never forget. 
It's 1:30 am and I'm sitting alone, tucked away in the upstairs window of the former home of Warren Jeffs. I've been looking out the window for thirty minutes now, (I think at stars), but mostly reflecting on this day.
My life has turned such strange corners. Many who loved me for years don't understand how I could end up at this window, in the empty and evicted home of so many women who were plural wives to the FLDS prophet. This is definitely not where I saw my life going. But here I am and here I sit.
I spent the day with my Creeker friends and had the special opportunity to spend several hours with faithful FLDS women. Women who have previously been silent because of betrayal and exploitation and fear. They were generous enough to gift me some trust today. They shared with me their hopes and resiliency, their humanness, their fears, and their joy. I was taken around town to see how they see their town. I was shown things I didn't realize were happening here. I also learned some things and broke down some stereotypes. I heard their singing and their laughter and saw their love. 
And now I'm reflecting on this day in this strange and unusual place and I can't stop thinking:
"What is the song of a hundred thousand heartbreaks?" 
What does the sound of thousands of tears of women sound like? Is there a tune for this heaviness?
I admit I think it is the slow, moody melody of my tears in the window tonight. I'm not sure I can wrap my head around all this pain. The struggle of my people and our Faith, the heartache of sacrifice and betrayal. The pangs of redemption and repentance. These aren't unique to Mormonism but the women in my tradition carry it.
Today I sat with FLDS women who wept when they talked about the sacred. I was reminded again of my faith and remembered for a moment what devotion feels like. 
I'm sitting in this room with a thousand ghosts tonight of women I'll never know but who I'll always know. The beat of our Mormon faith pounding in my heart (and always will) and it shows me tonight how to hold space for so much tension. So much erasure and so much pain. 
How do we hold the stories of those who have been so wounded by this movement? How do we mix their tears with tears of devotion and persecution and faith of those who believe? 
I'm honestly not sure. I'm just a city girl crying in the window of an abandoned house. But my heart is trying to hold sacred all the anguish that both sides of these struggles feel. I don't have an answer, just a reflection of myself in this black window and some memories and experiences from the generosity of so many. Life is complicated. May it always be so.
Natasha Helfer Parker, LCMFT, CST can be reached at natashaparker.org and runs an online practice, Symmetry Solutions, which focuses on helping families and individuals with faith concerns, sexuality and mental health. She hosts the Mormon Mental Health and Mormon Sex Info Podcasts, writes a regular column for Sunstone Magazine and is the current president of the Mormon Mental Health Association. She has over 20 years of experience working with primarily an LDS/Mormon clientele.