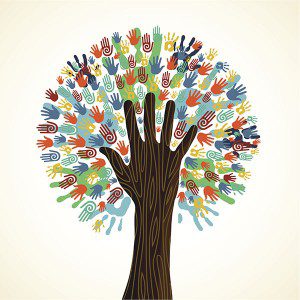 I am currently hosting a Mormon Matters Retreat… and one of my favorite parts is when we give time for each attendee to introduce themselves and share some of their story, their relationship with Mormonism, what they are currently struggling with and what they hope to get out of the experience. I am always humbled and honored to be witness to such deep and profound vulnerability among people who are just getting to know each other… and yet who are willing to risk emotional safety to seek for healing, growth, community, validation and understanding.
The following are quotes I collected as many spoke…
I share to be able to give better understanding of the spectrum we have within our midsts in Mormon communities. From those who are actively engaged in their religious traditions, to those who have left for different spiritual paths, to those who are uncomfortable with any spiritual language. We make room for all at these events. And I'm never tired of hearing the stories. Each one so profound… so tender… so human. I hope we can all continue to learn by bearing each other's burdens and learning how to hold space for the experience that is different from our own. May you tap into some of the wisdom, pain, and shared intimacy that I've been able to experience.
"Mormons don't just believe in individual progression… we believe in communal progression…" Gospel Doctrine Teacher
"I love being on the 'edge of the inside,' where I can still make a difference."
"We should be committed to lifting the human race…"
"It got to the point where we just stopped talking about many things…" (mixed-faith marriage attendee)
"When other people could testify of their God just as vehemently as I could of mine… it started me thinking about things differently." (speaking of their missionary experience)
"Twice this year I've had to find a substitute to teach my class because I could not support the teachings." (Relief Society Instructor)
"I love my church and I love my people and I just don't know where to go from here…"
"I found that the more I immersed myself into other religions and cultural traditions – the better I understood my own."
"I crave water — whether it comes from yoga or Jesus… I want to be led to and help lead others to water."
"I'm not sure my faith journey has ever started. I always wanted to be right… or survive… or avoid depression… I think my faith journey is just now starting…"
"Working with Mormons though the pain of the dark underbelly of Mormonism has been a converting force for me." Bishopric Member
"Mormonism pushes me to engage with my community… and I really enjoy that…"
"We've lost our moral imagination…" (in regards to correlation)
"I was raised by a perfectionistic mother. I was never good enough for my parents, for my church, for my God. When I didn't get answers, it meant I was broken."
"I'm very frustrated with past and current leadership who didn't foresee today. Now they tell us to ignore their own information. We've been left to ourselves."
"I've learned it's not safe to share my thoughts and feelings with more traditionally believing members."
"Mormonism was a haven for my parents who came from abusive and alcoholic backgrounds."
"I didn't plan much for my future because I figured the Second Coming was around the corner…"
"I'm going to put back in my basket only what resonates…"
"I thought I was the only human that felt this way and was still going to church…"
"If we could become acquainted with the humanity of our leaders, instead of putting them up on artificial pedestals… we would be so much kinder to each other."
"The blows to my faith included being asked to financially support Prop 8, the church essays, and the November 2015 LGBT policy. We want to stay. We've made a lot of investment. It's our tribe. It's our family. But the blows are heavy."
"I have a believing husband and believing kids. I act the part… and it's a struggle…My own kids don't know where I'm at."
"My spiritual experiences were like God saying… you're going to need this in the years to come…"
"You do all the right things, and check all the boxes. When it all blows up I had to ask, 'Why am I trying so hard?'"
"My biggest struggle is wondering why can't we just tell the truth?"
"Deconstructing church history is really difficult when it is also my family history." (descendent of Hyrum Smith's polygamy)
"The most difficult thing about my journey is that I go to church and none of my kids go with me."
"Some of my best friendships have come from e being willing to reach out to those I've offended somehow – and being willing to learn from them."
"Because I love Mormonism I'm always wanting to make this work… and looking for ways to make it work."
"Things don't turn out the way you plan…"
"My Mormon story was beautiful. I loved my growing up experience… and now it's hard because I have this love and also all this new learning that doesn't fit. The pieces don't always fit."
"I feel like I'm unschooling."
"Of course we were studying… we love the gospel. My mind keeps getting blown open… and I'm grateful."
"It started to feel like I was selling my own authenticity short."
"Learning how to think vs being told what to think… this is what transformed my spirituality."
"The church was a lifeline for our family – I'm the product of a system that helped our dysfunctional ancestry."
"Church was a haven for me from an abusive step-parent."
"I'm grateful for Heavenly Parents that allow us our own journeys."
"We don't know how to love and be real with each other when our language changes…"
"There's so much that I love… that I'm taking things slowly. And carefully treading my way. Trying to be mindful and careful. I'm okay if this is something I'm unraveling for the rest of my life."
"It makes it more difficult and traumatic to transition we all my ancestors crossed the plains choosing this faith."
"Sometimes I want to go back to the safe place of my innocence."
"I'm back and forth about the harm and good that my children glean from the church."
"Being worried about my kids is what makes this journey so much harder."
"I believe in a bounty of love."
Until we can make room at the Mormon table for all of these thoughts/feelings/experiences to have "a seat," we will be lacking as a faith community.
Natasha Helfer Parker, LCMFT, CST can be reached at natashaparker.org and runs an online practice, Symmetry Solutions, which focuses on helping families and individuals with faith concerns, sexuality and mental health. She hosts the Mormon Mental Health and Mormon Sex Info Podcasts, writes a regular column for Sunstone Magazine and is the current president of the Mormon Mental Health Association. She has over 20 years of experience working with primarily an LDS/Mormon clientele.