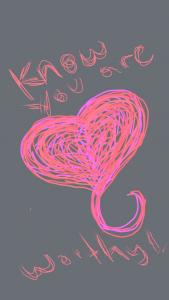 As part of my weekly challenge/recommendation I tackled "worthiness" in my journal and this is what I came up with:
Am I worthy? This is a question that haunted most of my Mormon upbringing. Taking back the authority from the church that tried very hard to do this job on my behalf (judging my worthiness), has been difficult yet liberating and empowering: and strangely falls within the Mormon invitation to honor and seek personal revelation. I am always worthy now. My worthiness is no longer tied to my behavioral strengths or weaknesses. To my to-do lists. To other's perspectives of my beliefs or actions. It is tied to my existence. And my existence is tied to the deserving desires of peace, contentment, love and acceptance of who I am, where I am and the process of whatever journey gets me to ponder about these things to begin with. It is no longer tied to ways I may legitimately want to improve or self-correct – which will be never-ending. It is tied to my breath, my heart, my soul, my body and my being. So, yes… I am worthy. Inextricably worthy.
What insights are you willing to share in regards to your relationship with the word "worthiness?"
Natasha Helfer Parker, LCMFT, CST can be reached at natashaparker.org and runs an online practice, Symmetry Solutions, which focuses on helping families and individuals with faith concerns, sexuality and mental health. She hosts the Mormon Mental Health and Mormon Sex Info Podcasts, writes a regular column for Sunstone Magazine and is the current president of the Mormon Mental Health Association. She has over 20 years of experience working with primarily an LDS/Mormon clientele.

Read more at http://www.patheos.com/blogs/mormontherapist/2017/08/weeks-recommendation-brene-browns-dont.html#65FZ1uicFP7Ejm25.99