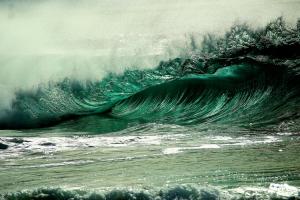 When I read this piece, it reminded me of much of the work we do with clients in regards to mindfulness practice…. and acceptance of what is. And how at times, this movement towards exactly what scares us most… what seems to threaten us most… is the movement that offers reprieve, peace, and even survival. Though the author shares her experience in the context of faith transition… the metaphor is applicable to many of life's unexpected and difficult twists and turns. I share this writing with permission.
Today's guest post is written by Jennifer Skoubye. Opinions shared on guest posts may not completely reflect the positions of the blog's author. 
Jennifer Skoubye is a lifelong Mormon, who is learning to walk by study and faith, rather than certainty. She loves being a wife, mother, and grandmother. Her primary interests are music, religious studies, and the ancient Greek and Hebrew languages.
"Still"
I nearly drowned once. In the Pacific Ocean. Although I was a confident swimmer, I got caught in a rip current and quickly found myself alone, overwhelmed, and being pummeled by some very large, life-threatening waves. There were no lifeguards and I was too far out for anyone to see or hear my distress. All my efforts to get back to the beach quickly eroded my strength. I was twenty years old and I was about to die. My desperate plea to Heaven was answered with the firm, yet calming command to "Be still."
As I obeyed that prompting, I discovered that by relaxing during and in between being swallowed up by those dark, terrifying waves, I could save enough energy to swim up to the surface for air. Once I was no longer panicking and resisting the strong current, the same physical forces that I was sure would destroy me, eventually carried me back to the shore.
I often think of that experience and how similar it has felt to my faith journey. In my late thirties, I was a happy, traditional Mormon, sure of my faith and comfortable in the church. Then unexpectedly, I was swept up in a rip current of doubt and despair. For years, I exhausted my spiritual strength, thrashing about, trying to get back to the safety of certainty, but I was spiritually drowning and didn't know how long I could stay in the church. That was about twelve years ago. Since then, I have learned that the same counsel that saved me from drowning physically has saved me spiritually.
Now when I find myself tossed about in a sea of uncertainty, I've learned to not thrash about, but to "Be still." It doesn't make everything okay immediately, but experience helps me wait calmly, intently for the peace to come. And it does come. I know well the feeling of being immersed in the dark abyss of spiritual loneliness, and I've worried more than once that I will never breathe testimony again. However, as I quiet my mind and let the troublesome doubts and disappointments wash over me without succumbing to fear or anxiety, I somehow find enough strength to wait for the equally forceful currents of clarity and confidence to return.
In my darkest nights of the soul, I've learned that the God who commands the waves of the sea is personally mindful of me. I trust him to always bring me safely back to the shore of his love. I've learned over and over again that sometimes God calms the waves, but most times, he calms us instead.
Even though they nearly took my life, I am still mesmerized by the waves of the ocean and find peace watching them roll onto the shore. Peace, my dear friends. Be still and trust him. You are going to be okay.
Natasha Helfer Parker, LCMFT, CST can be reached at natashaparker.org and runs an online practice, Symmetry Solutions, which focuses on helping families and individuals with faith concerns, sexuality and mental health. She hosts the Mormon Mental Health and Mormon Sex Info Podcasts, writes a regular column for Sunstone Magazine, is the current president of the Mormon Mental Health Association and runs a sex education program, Sex Talk with Natasha. She has over 20 years of experience working with primarily an LDS/Mormon clientele.