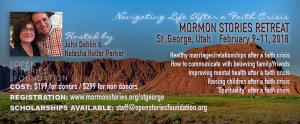 Hope you'll take the opportunity to join us for this retreat opportunity in St. George. It's only a few weeks away. These events consistently get ranked at a 4.9 out of 5. We address all kinds of issues that one might be dealing with in regards to faith transitions: mixed-faith marriages, parenting, communicating with extended family & friends, best mental health practices, sexuality, and more. Plus people love the community aspect and all the new friends they get to meet. There is free lodging available for some of those who are traveling. Help me spread the word to anyone who might be interested.
WHERE: St, George, UT (we will send venue address to all registered participants)
WHEN: Friday- Sunday, February 9th-11th: (Friday 7pm-10pm, Saturday and Sunday 9am – 5pm).
COST: $199 per person for donors, $299 per person for non-donors and $125 for a single day  – lunch will be provided Saturday and Sunday.
If you are unable to afford the registration fee please email the OSF concerning a scholarship at staff@openstoriesfoundation.org.
To donate to the scholarship fund click here.
To register
click
here
Natasha Helfer Parker, LCMFT, CST can be reached at natashaparker.org and runs an online practice, Symmetry Solutions, which focuses on helping families and individuals with faith concerns, sexuality and mental health. She hosts the Mormon Mental Health and Mormon Sex Info Podcasts, writes a regular column for Sunstone Magazine, is the current president of the Mormon Mental Health Association and runs a sex education program, Sex Talk with Natasha. She has over 20 years of experience working with primarily an LDS/Mormon clientele.