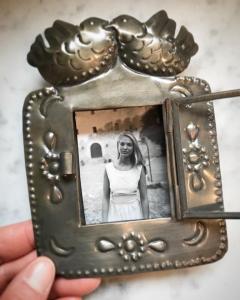 I often talk with my faith transitioning clients that going through an anger phase is not only normal, but healthy. And for each individual that takes on different meanings and experiences.
By the end of our work… we start talking about making amends with the faith that we come from. This too can take many different shapes and forms. I have seen it be an important task in the faith transitioning process… and especially helpful in the movement of distancing from acute anger. Because our upbringings are complex… and not binary… not "all good" and not "all bad." I have seen it be an important process to claim those parts that helped form the people we are today… regardless of where we currently stand with our faith/belief structure. Reading Mindy's post today was a beautiful reminder of how this journey plays out in yet one more poignant way.
Today's guest post is written by Mindy Gledhill. Opinions shared on guest posts may not completely reflect the positions of the blog's author. 
Mindy Gledhill is an award-winning singer, songwriter and composer. Her music has been featured on prime time television shows, major television ad campaigns and in films. Her most recent project, "Hive Riot," is an electronic 80's throwback band whose debut won "Best Pop Album" at the Independent Music Awards in 2016.
"Take your life in your own hands and what happens? A terrible thing: no one to blame." – Erica Jong.
The adult years of my life have been a wild ride. I don't think I could ever explain them to anyone. I have felt wounded by a handful of intense events, and I have also found my voice and autonomy in my journey to find healing.
I've allowed myself to be angry about things because anger wasn't something I was taught was acceptable to feel or express. But I think I'm reaching a point where I'm ready to put my anger to rest. It's starting to feel awfully tiresome.
I'm feeling more and more of a desire to master the art of extending love. A mentor of mine has often told me "Where we withhold love, we cannot receive love." Today in this present space of softening, I'd like to start with the young girl in this photograph. She was always worthy of love. And to the village that raised her (aka, a whole lotta Mormons) — I want to express my gratitude and love to you all. You have been and always will be my people. I don't express often enough how beautiful much of my upbringing was in the arms of the Mormon people (the celebrated rites of passage, the generosity, the shared devotion to something bigger than us all, the endearing cultural colloquialisms, and so much more).
Thank you, thank you, thank you. I walk a different spiritual path now, but I hope you will always be the village I come home to.
Whether you are in a faith transition or not… and if you were raised as a Mormon… what are the experiences, rituals and truths you are thankful for and that you still find value in?
Natasha Helfer Parker, LCMFT, CST runs an online practice, Symmetry Solutions, which focuses on helping families and individuals with faith concerns, sexuality and mental health. She hosts the Mormon Mental Health and Mormon Sex Info Podcasts, writes a regular column for Sunstone Magazine, is the current president of the Mormon Mental Health Association and runs a sex education program, Sex Talk with Natasha. She has over 20 years of experience working with primarily an LDS/Mormon clientele.