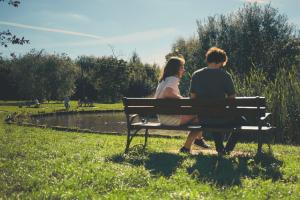 As far as inner transformations concerned, there is nothing you can do about it. You cannot transform yourself, and you certainly cannot transform your partner or anybody else. All you can do is create a space for transformation to happen, for grace and love to enter.
Eckhart Tolle
Relationships will require you to get your hands dirty. They will require risk. They will undoubtedly wound you at some point or another. There is no other way. 
Natasha Helfer Parker
Natasha Helfer Parker, LCMFT, CST runs an online practice, Symmetry Solutions, which focuses on helping families and individuals with faith concerns, sexuality and mental health. She hosts the Mormon Mental Health and Mormon Sex Info Podcasts, writes a regular column for Sunstone Magazine, is the current president of the Mormon Mental Health Association and runs a sex education program, Sex Talk with Natasha. She has over 20 years of experience working with primarily an LDS/Mormon clientele.