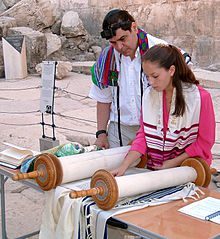 I find great awe and admiration to families that prioritize offering their children a variety of rituals and beliefs in mixed-faith settings. There are such great and unique opportunities to role model gospel principles in mixed-faith families. Here is a beautiful example of Joanna Brooks, a feminist Mormon mother, who is married to a Jewish man.
Today's guest post is written by Joann Brooks. Opinions shared on guest posts may not completely reflect the positions of the blog's author. 
Joanna Brooks is an American author and professor of English and comparative literature at San Diego State University. She is a frequent media commentator on faith in American life, particularly in relation to her own Mormonism.
Today my Rosa is called to the Torah to become a bat mitzvah, a daughter of the commandments. In our congregation, it's customary for parents to offer their children a blessing at the bat mitzvah. Happy to share my blessing for Rosa with you:
**
Rosa Lucille: when you were born, your Grandfather Brooks in the Mormon tradition gave you a blessing on your life. He and your uncles John and Chris took you in your arms in front of the congregation, and he said words:
"We bless you that you will be a person who spreads good tidings. That you will have a great family who will love you, that you will love them and will bring great joy into their souls. We bless you that you will be a person that will be kind to others and that you will be able to find great joy in serving and giving of your time and your talents to those who may be in need."
I could not be prouder at this moment, to stand in the place my father stood and offer you a blessing in front of this congregation.
Just two weeks ago, in a Saturday morning service, 11 Jewish people lost their lives just for being Jewish. Rosa, you have been nervous about learning the tropes, nervous about making a mistake, but you have not been afraid to claim your place among the Jewish people, and you have done it with great joy. And that, today, I celebrate.
It says in the scriptures of my faith: We are that we might have joy.
May you never be afraid, Rosa, and may you always have great joy.
Because love and joy are essential to the struggle.
They are the reason we struggle.
What you do, what you are, is what the struggle is for.
Rosa, my beauty, may you always dance. Because in the face of evil, in the face of death, in the face of danger, we breathe, we work, and we dance to find our joy.
May you dance in the kitchen as you have since you were a baby girl, making everyday spaces glorious and beautiful.
May you dance like our LGBTQ+ kindred do—with an exuberance spun from sorrow.
You have always moved from dance to dance, song to song, joy to joy, hand to hand, house to house, held in place by the so very many people who love you, and may it always be so for you—even in times of trouble.
And Rosa, will you please go on with your joyous life, but will you please come home once in a while?
And when I am gone, will you please make your sister a place to come home to, because she will need a place to rest from fighting the good fight, and you, sweet love, know how to do that.
And rest is essential to the struggle.
May you always sleep in warm and protected places, under blankets of tenderness, under canopies of black skies with stars.
May you befriend your mighty, mighty emotions and find in them a source of protection and power.
May you love and honor your body. May you walk always in the integrity of self-possession, in the wholeness of self-compassion.
May you know love.
May you trust yourself.
May you trust yourself.
May you trust yourself.
May your ancestors always follow you, just to remind you to trust yourself.
May you have health in your navel and marrow in your bones. May you run and not be weary and walk and not faint.
May you tell the future that we stopped time and travelled and feasted and danced to celebrate you, a girl becoming a woman, a girl learning prayers and taking responsibility for herself and the people she came from.
Tell the future we gathered together in a time of danger and uncertainty, because we loved you, and because we know you will carry the good things on, and because this world would indeed be a better place if everything centered around celebrating the learning of 13 year old girls.
As we do today, dancing in the face of fear, danger, and evil, with great joy.
I love you.
Natasha Helfer Parker, LCMFT, CST can be reached at natashaparker.org and runs an online practice, Symmetry Solutions, which focuses on helping families and individuals with faith concerns, sexuality and mental health. She hosts the Mormon Mental Health and Mormon Sex Info Podcasts, is the current president of the Mormon Mental Health Association and runs a sex education program, Sex Talk with Natasha. She has over 20 years of experience working with primarily an LDS/Mormon clientele.