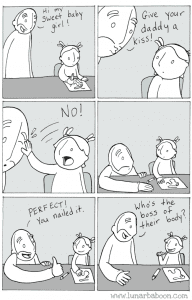 Really enjoyed reading this article and following the link to the actual cartoons. These are great examples that fly in the face of both patriarchy and how fathers in particular are often portrayed in the media. Here is a man who is parenting in empathic, LGBTQ+ affirming, emotionally intelligent, gender affirming, and kind ways. He tackles social justice on a variety of fronts and could be used as a resource for us as parents… as well as starting interesting conversations with our kids. Check it out!
Dad's Sweet Comics Promote Empathy, Tolerance And Love
Natasha Helfer Parker, LCMFT, CST can be reached at natashaparker.org and runs an online practice, Symmetry Solutions, which focuses on helping families and individuals with faith concerns, sexuality and mental health. She hosts the Mormon Mental Health and Mormon Sex Info Podcasts, is the current president of the Mormon Mental Health Association and runs a sex education program, Sex Talk with Natasha. She has over 20 years of experience working with primarily an LDS/Mormon clientele.