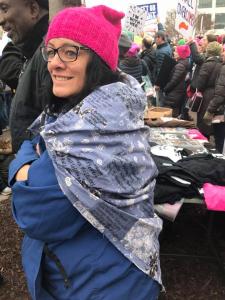 Continued…
The following are the "witnesses" that have been written in behalf of Gina Colvin, who is being summoned to a disciplinary court on December 20, 2018. If you're interested in submitting a witness… please share with me at nhelferparker@gmail.com. I will continue to update… or create further posts as I receive them. I will keep blog posts to about 1500 words… that's why there will be more than one "page."
Gina Colvin, you are in my heart night and day.
You stood at the margins and taught and comforted people in the margins. You stepped into the water at the margins. The book of our sacred peoplehood tells us the name for this way of being is "Mormon." In that rejected name, we are together, and we will not let you go. The violence of this world–the violence that hates indigenous people and indigenous women–put you in a cruel and deadly place when you were young, and good hearted Mormon people came and stood at the door and called your name and fished you out. Mormon people for a time gave you a place to rest and repair and begin to recollect yourself (even your Maori self) so you could do the work this life holds for you. Look at the beauty, power, brilliance, courage, and generosity you have made of your life. When I light my candles on 12/20, I'll be thinking of the path ahead for you–your feet beautiful upon the mountains–and I believe can see its shape and it is good and powerful and all is well.
Joanna Brooks
I can't stop thinking about Gina and her impending church discipline. The thing I keep coming back to is this: if you knew her, you couldn't excommunicate her. You wouldn't want to. You would know she is among the very best of us. Because she is.
I've been lucky enough to chat with @Gina_Colvin on podcasts, like this one https://www.athoughtfulfaith.org/mothers-milk-poems-in-chu…/ … and this one https://www.athoughtfulfaith.org/in-sacred-defiance-a-refl…/ …, and in rooms and woods in Utah, and Colorado, and New York, and Pennsylvania. She knows my babies. She loved my babies. She loved me and has ministered to me.
On the most recent of these instances, she brought her own minister, Meagan, who was herself a gift to those of us gathered from the Mormon feminist community. She taught us with grace and sat with us in groups and one on one and asked us where God was for us. Then she listened and held our hands while she prayed for us.
I wrote this poem this summer when I sat in a room with Gina and listened:
"Lament"
Gina knows the Mother,
knows the women
standing outside gates
crying, lamenting across
large walls.
She says, "Name it.
Name it. Again and
again and again."
Name the Mother.
Name the lament.
Name the wall.
"Say it until they
can't ignore it.
Until they listen."
Rachel Hunt Steenblik
Bishop Shaw,

We will never meet as I live on the other side of the world in Alabama, USA, but I write in support of my friend and inspirational voice Gina Colvin.   

I am an active, endowed, returned missionary, temple married member of the LDS Church and have been greatly inspired by Gina's public podcasts and discipleship.

She and the guests she interviews on A Thoughtful Faith help inspire me to be a more moral person  and to increase my spiritual connection to God.

I have been in disciplinary councils of women as a ward clerk and I know the pressure you face as a bishop to attempt to discern what God wants you to do in the light of Church policy.

First I plead with you to listen with an open mind and heart to Gina's podcasts. All of them before you proceed with the council.  If you only have a summary provided by the Strengthening Church Members Committee in Salt Lake, you don't and can't know the honesty and integrity and faith of Gina without yourself listening and engaging in the issues and profound faith she brings to discuss.

A simple unexamined faith is not what God prepares us for nor is it close to divinity; rather faith that abides thru knowledge of complexity in thoughtfulness is what transforms us to the type of disciple who is not afraid of truth and real evidence, and complexity in a faith walk.  She encourages people in their faith.

Understand that as a man and disciplining her, you don't understand what it is like to be a woman in the church and and serious misunderstanding occurs.

Let her be.

Tim Birt
Stake president, Bishop Shaw and others:  

I would like to write an appeal for Gina Colvin and be a witness of how she has influenced me. I ask you to be compassionate and understanding  and open your mind to the influence Gina has on her friends and readers.  Gina Colvin has a strong testimony of Christ and his church that radiates to others.  That's why she is so loved, not only by those who know her but those who read her posts also. Perhaps she is not perfect, but who is? She is exactly the kind of saint we need in our church—self examining, thoughtful, and unafraid to challenge us and speak out.  

I am a college teacher and one of the courses I teach is comparative religions. In it, I have learned to love the great wisdom traditions of this world and see the beauty and truth in them. Should you disfellowship me for that? I don't think so. I know our father is able to teach truth through traditions in all countries.  Jesus Christ's atonement is universal.  Should Gina be disciplined and distanced from our church because she also sees truth elsewhere as well? She is a member of the Church of Jesus Christ of Latter-day Saints, and she cares about it, and works hard to help us see ourselves more honestly. 

 I do not have a testimony that church courts are "courts of love", but I pray that you may help me gain one by treating Gina with love and respect and affirmation.
President Jared Ormsby and Bishop Josh Shaw,
I want to write in support of my friend Gina Colvin. But the more I try writing up something, the angrier I get. 
No one with any integrity would dare act in place of Christ and condemn a woman for trying to experience the divine in her life. When you have decided that she needs to a disciplinary council you have already deemed her unworthy. That makes me angry. You don't know her, and if you did, you would know that she is anything but what you have so ignorantly decided.  
The reason Gina speaks up is because she loves the church. She loves the people in the church and wants it to be better. She sees the potential. Deeming someone unworthy because they call to institutional abuses, is spiritual violence. Christ did the same thing in His time, and you are condemning her for acting like Christ. 
If you excommunicate Gina, you are sending a message to thousands of LDS members like me, who agree with her. 
You are sending the message that we don't belong in the church. 
That we are not welcome there. 
Just be very aware that this will have broader implications than in just your small ward in New Zealand. Thousands and thousands are watching your actions.