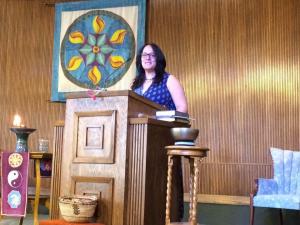 Continued…
The following are the "witnesses" that have been written in behalf of Gina Colvin, who is being summoned to a disciplinary court on December 20, 2018. If you're interested in submitting a witness… please share with me at nhelferparker@gmail.com. I will continue to update… or create further posts as I receive them. I will keep blog posts to about 1500 words… that's why there will be more than one "page."
Dear Bishop Shaw and President Ornsby,
I want to add my name as a witness to what a beautiful disciple of Christ Gina Colvin has been to me and my family.
I am a convert to The Church of Jesus Christ of Latter Day-Saints, converted under the pretense of problematic history, culture, dogma, and doctrine. With many of my questions going unanswered for 20 + years, I pushed through "faithfully" serving in many callings in the church, including Bishopric and Stake callings. Despite having doubts and serious questions I tried to find the best resources to keep me in communion with God and engaged in the LDS community that I have come to love. The Spirit was calling me to engage in a deeper and more meaningful relationship with my Heavenly Parents and their children, but here lies the problem……. the Church has been failing my family miserably with the right nourishment. You see, Gina is a Jesus girl through and through. And because of her desire to follow Jesus Christ, I have learned that God has many more beautiful gifts and talents through other faith communities that I could engage in to strengthen my testimony of a Loving God. Terryl Givens asks all the time, "What is your holy envy" when he speaks of other faith communities. Do you not see what he is doing here? He is challenging our paradigms and to look at more inclusive community. We can now engage with the LDS community and defend those on the fringes, just as Christ did. I have learned to come to a place of grace and love that reaches farther than our small communities. This we have done because Gina has shared her journey with me and my family. She has been cherished through my faith expansion. Gina has taught us how to engage with God to discover our divinely creative gifts to love deeper and have more meaningful relationships. God is much more gracious and loving because we know Gina.
I sincerely hope you would consider your decision to hold a disciplinary council. I hope and pray that your eyes and heart may see the beauty and love that Gina holds for her fellow brothers and sisters. Your message will be loud and clear to thousands of others like us on the "fringes" of the LDS Church. So, although the actions you take on Gina may feel like they are only with Gina, we will not let her carry those burdens alone and they will become our burdens and we will carry them just as Jesus Christ took upon himself our burdens. I hope that you understand our desire is to make the LDS Church a safer place to worship and serve one another. Open your heart and mind to the possibilities that God is sharing with us in these days.
Please do not take these actions lightly. Our love is not only with Gina, but with her family as well.
We have been called to witness and stand for truth.
Mosiah 18:9
Yea, and are willing to mourn with those that mourn; yea, and comfort those that stand in need of comfort, and to stand as witnesses of God at all times and in all things, and in all places that ye may be in, even until death, that ye may be redeemed of God, and be numbered with those of the first resurrection, that ye may have eternal life—
Thank you,
The Gomez Family
Placido Gomez Jr.
Boise, Idaho
I hope this letter finds you well as we prepare for the wonderful season of Christmas. We love you and your family and have enjoyed our friendship since you moved to to our neck of the woods. We have had fun times with you and your extended family too. For this reason I am writing to you, because I am worried for you.
We were sad you were taken out of our ward to become Bishop of Parklands. We couldn't see the reason for it, why you would have to go to a ward that had plenty of eligible priesthood holders, but now it becomes clear.
I see this as a set up, that you have been hand picked for the job of dealing with Gina Colvin. You will be the one that ends up taking the fall for this spiritual atrocity. Chosen to carry out the wishes of others to remove a thorn in their side. Chosen because perhaps you don't know Nathan and Gina very well, and on face value it's easy to be convinced that this is the right thing to do.
We do know Gina and Nathan. We have loved, served and laughed with them over many years. You may know that we also have been struggling through our own faith transition/crisis for over 10 years. This has been 10 years of wrestling with uncomfortable truths and realizations that have been difficult, isolating and hurtful.
We felt largely unsupported by our ward. People didn't want to talk about our concerns and we felt dismissed as people tiptoed around us to avoid openly discussing any of our sincere, deep and troubling issues. This was hurtful at first, but we are OK with it now, as we accept and have come to understand the difficulty of dealing with cognitive dissonance and acknowledge that it is easier and safer for others to distance themselves from confronting hard truths.
Yet through all of this have been Nathan and Gina. They showed us love and acceptance and gave compassion and support through many late nights, tears and open discussions that our breaking hearts longed for. No judgements were made, no subject was taboo, they listened, cared and allowed for personal spiritual investigation and healing. We may have abandoned the church very early on in our journey, were it not for their friendship and support. They listened to our heated discussions and provided a rational and reasoned sounding board and safe place for us. A place that should have been in our ward but was sadly lacking.
Through Gina's online blogs and podcasts I know that she has provided similar support and refuge for thousands of others who are struggling through the mire of faith transition that is modern mormonism.
"We claim the privilege of worshiping Almighty God according to the dictates of our own conscience, and allow all men/women the same privilege, let them worship how, where, or what they may." —
Articles of Faith 1:11
This is a basic tenet of the church. So why would this not apply to Gina and her choice of how she chooses to commune with the Saviour?
In all of the time I have known them, Gina and Nathan have helped me find a personal relationship with deity. They have never encouraged me or my family to leave the church or abandon mormonism, quite the contrary. They helped us navigate a way to stay and find value in what at times appears to be a very broken Church.
As you approach your decision about the upcoming disciplinary hearing and potential excommunication, I think you need to be prepared for the consequence of your actions.
Are you really prepared to tear apart an eternal family?
Do you, from a surface viewing of "evidence" want to destroy the eternal temple bonds to her husband and children?
The brutal and spiritual abuse of excommunication is a man made doctrine and finds its place only in cults that shun those who do not worship the leader or subscribe to Group think.
Ultimately the only person with the authority to judge Gina is the saviour. You as a bishop are appointed as a temporal judge. Your decisions should reflect those that the saviour would make.
In all my scripture study, I have yet to read of the Saviour casting anyone out of his church. If Gina is guilty of anything it is in not putting her faith in the arm of the flesh but in Christ.
"Let no man glory in man, but rather let him glory in God. … These shall dwell in the presence of God and his Christ forever and ever" (
D&C 76:61–62
)
.
Are you prepared for the ripple effect of your actions.
The effect upon the online community who find refuge in Gina's work, the effect upon other faith communities in Christchurch and world wide. Do you want to become known as the bishop who excommunicated someone for following Christ but not following the President of the Church?
I think this type of action only justifies those phariscal members of the church to continue being intolerant of those who make them feel uncomfortable by making them think deeply about their faith. Where the saviour preaches come follow me, your decisions will only validate and encourage the exclusive mindset to just 'get rid of them' and these type of people will continue to push people out, people like Us?
Ultimately you will be judged by the world for your decisions but more importantly by the Saviour.
Tread carefully, As I said at the start of the letter, we are worried for you. This has been set up for you to take the fall by those unwilling to do so. Like Pontius Pilate they have washed their hands of it and the judgment now lies with you.
We love Gina and greatly appreciate her. We have our differences of opinion in some areas as would be expected, but she deserves better treatment than this. She needs love, support and understanding. She needs a community that is accepting of her and embraces her. We also acknowledge Nathan and how truly devastating a decision such as excommunication would be especially for him. We will stand with Gina and Nathan through this hurtful process, but this is not about taking sides, it is about trying to be Christ like and mourn with those that mourn and returning the kindness and support that Gina has shown us and thousands of others like us.
We hope that you will accept this letter in love and kindness as it is intended. Just our thoughts for what it's worth.