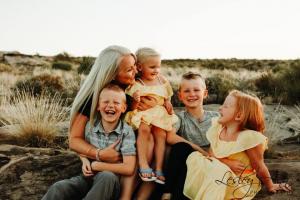 I've been seeing a lot of commentary on social media feeds responding to Nelson's talk where he chose to reiterate a fairly rigid take on what we know about the afterlife in regards to forever families. The phrase I'm seeing coined fairly often is that Mormon Heaven = Sad Heaven. Goodness…
As a member I had always been taught the doctrine and had interpreted the doctrine in much more flexible, loving ways with infinite possibilities of how things will "work out" in the end. It is understandable how families like our guest poster today are very hurt and damaged by the words shared in General Conference. It's been disappointing to see how many commenters are so quickly willing to dismiss lived pain and consequences of so many with a simple "but the prophet/doctrine/God said so…" I will constantly invite readers of my blog to be open to the hearts and experiences of others. To practice humility. And to recognize that we've been wrong and done much damage in the past by blaming things on God that had nothing to do with Him. One of the things I love the most about Mormon doctrine is our belief in ongoing revelation. I'm convinced that this is not because God is changing… it's because we understand God better as we make our own progress. Our short history in Mormonism has shown this to be the case again and again… and we still mess it up often.
Today's guest post is written by Leslie Butterfield. Opinions shared on guest posts may not completely reflect the positions of the blog's author.
Leslie is a Registered Nurse who works in Community Health. She resides in Virginia with her 4 children, all of which enjoy dance parties in the kitchen. Lesley is a member of the Church, who works for healthy change. She hopes for more equality, more empathy and trauma-informed policies.
We are a family. This is my family. Please know…..it is abusive to say and believe that your family will not be able to be together when you die because of differences in beliefs, inability to conform or unwillingness to make covenants. Life is not black and white. It is harmful to perpetuate this belief as truth. As a single mother who has had no choice than to step away from the church for my own safety, my children (who still attend sometimes) are damaged when they hear this rhetoric, as it causes psychological trauma and is spiritually abusive and emotionally threatening. It is not ok. And it is certainly not healthy.

I fully embrace and teach my children that nothing will separate us. Ever. Because this *is* what Christ taught. Heaven will be a place of love, not a place of trauma. It will be a place of healing, not a place of wounding. It will be a place of togetherness, not a place of separation. It will be a place of peace, not a place of turmoil and anxiety.

And we like our heaven better.

---

Natasha Helfer Parker, LCMFT, CST can be reached at natashaparker.org and runs an online practice, Symmetry Solutions, which focuses on helping families and individuals with faith concerns, sexuality and mental health. She hosts the Mormon Mental Health and Mormon Sex Info Podcasts, is the current past-president of the Mormon Mental Health Association and runs a sex education program, Sex Talk with Natasha. She has over 20 years of experience working with primarily an LDS/Mormon clientele.