As I sift through thousands of comments on Facebook feeds of people affected by the recent announcement of the policy changes, I am often touched to tears. So many of our brothers and sisters are hurting and I share some of their excerpts in the hopes that our empathy and understanding can grow. Thank you Drew for sharing your thoughts with us here on The Mormon Therapist blog.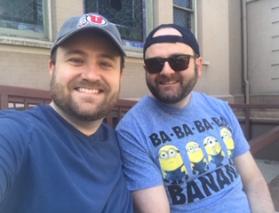 Today's guest post was written by Drew Stelter. Opinions shared on guest posts may not completely reflect the positions of the blog's author.
Drew Stelter resigned his membership in the Church of Jesus Christ of Latter-Day Saints in 2011. He is currently seeking a graduate degree from the University of Utah's Psychiatric Nurse Practitioner program and looks forward to tying the knot in the coming year with his fiance , Jordan.
I wrote these thoughts down yesterday evening, which was very cathartic for me:
You say that a simple 'I'm sorry' can invite forgiveness, foster love, and offer healing…

Yet you cannot – or will not- look me in the eyes and utter the words 'I'm sorry for hurting you. I was wrong.'

Why do you keep me distant from you even as you speak of ministering with love?

Sit with me. And listen. And mourn with me.

Invite me in.

I am a child of God too.

---

Natasha Helfer Parker, LCMFT, CST can be reached at natashaparker.org and runs an online practice, Symmetry Solutions, which focuses on helping families and individuals with faith concerns, sexuality and mental health. She hosts the Mormon Mental Health and Mormon Sex Info Podcasts, is the current past-president of the Mormon Mental Health Association and runs a sex education program, Sex Talk with Natasha. She has over 20 years of experience working with primarily an LDS/Mormon clientele.