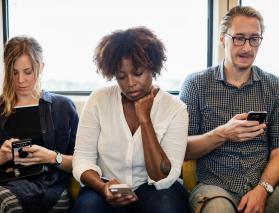 Social media often gets blamed for the isolation that's so common in our society today.
But just like I say about a lot of sexual things… stop blaming the "thing".
Let's talk about HOW we're USING "the thing"
Here are a few thoughts I had as I listened at the recent #MOKAN conference I attended (which had to do with helping people with suicidal ideation):
Scrolling isn't a healthy way to use social media.
Neither is comparison to other people's "best selves"
Neither is polarizing debate.
Connecting with old friends or family you wouldn't otherwise be in contact with is.
Engaging in both rich and even superficial (i.e. casual, catch-up) conversations is.
Planning in-person connection that is fueled by on-line connection is.
Asking for ideas/resources is.
Getting support you wouldn't necessarily find in your geographical area is.
Getting support for something you might not be willing to be public about is.
What are some ways you use social media in ways that benefit your life?
#suicideprevention
---
Natasha Helfer Parker, LCMFT, CST can be reached at natashaparker.org and runs an online practice, Symmetry Solutions, which focuses on helping families and individuals with faith concerns, sexuality and mental health. She hosts the Mormon Mental Health and Mormon Sex Info Podcasts, is the current past-president of the Mormon Mental Health Association and runs a sex education program, Sex Talk with Natasha. She has over 20 years of experience working with primarily an LDS/Mormon clientele.