Mette Harrison put effort in gathering names to support this important position statement she drafted which is posted on Medium. I have her permission to share here as well. If you would like to add your name to the list please email Mette at ironmomm@gmail.com.
Today's guest post is written by Mette Ivie Harrison. Opinions shared on guest posts may not completely reflect the positions of the blog's author.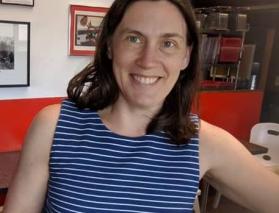 Mette Ivie Harrison writes The Bishop's Wife mystery series for SoHo Press and was a frequent blogger for Huffington and RNS about Mormonism. She also publishes the Vampires and Mormons series and The Book of Laman series for By Common Consent Press. She is an All-American triathlete, Princeton PhD and mother of 5.
April 4, 2019 leaders of The Church of Jesus Christ of Latter-day Saints walked back much of the November 5, 2015 policy that called for excommunication of same-sex married couples and the exclusion of their children from the saving ordinance of baptism and full inclusion in the church. D. Todd Christofferson, member of the Quorum of the Twelve, claimed the policy was meant to be "loving" and to help avoid situations where children were taught differing messages at home and at church., Following the policy rollout, the current church president, then apostle Russell M. Nelson, declared the policy to be direct revelation from God.
In the time since the policy was released, youth suicides in Utah have reached an all-time high that some residents believe is directly related to this policy, and many, many members have resigned in protest over what appeared to be a deliberate move to punish parents through their children, marking these families as different from others in the church. In particular, to those LGBTQ Mormons who had tried desperately to follow church counsel in previous years, to enter into mixed-orientation marriages that produced children but ultimately ended in divorce, the policy seemed designed to further hurt those who were trying to build healthy relationships based on their true sexuality and gender identity. It also caused enormous collateral damage that could be expounded on in depth if we had time to tell individual stories.
We are all pleased that this policy has been changed. We are also pleased that there are many allies working from within the church who are trying to explain to church leaders why more needs to be done. We need to help reduce youth and adult suicides in Utah. We need to be more inclusive and Christlike in our teachings and culture. We need to think of heaven as God more inclusively, and to show this in our iconography, our temples, and our songs and stories.
We hope that church leaders will start acting more inclusively with regard to transgender, intersex, non-binary, and asexual individuals. But we must call out the rescinding of this policy out as the hypocrisy that it is. To say only three and a half years ago that President Nelson and the other church leaders were inspired by God to institute this policy, and now to take it away without a hint of admission that it was wrong, is bad doctrine and bad policy. To rescind this policy without acknowledging that it caused terrible harm and hopelessness, to point the finger at God rather than at themselves as the people who made this decision and got this wrong, is poor leadership.
We call on the leaders of the Church of Jesus Christ of Latter-Day Saints to admit past mistakes and to stop hiding behind the idea that God wanted things done this way. We call on members of the Church of Jesus Christ of Latter-Day Saints to look to their own conscience and stop following church policies that are harmful. We know that doing so often leads to exclusion, social discrimination, and possible excommunication. But if Mormons want to be thought of as Christians within the full community of the body of Christ, we must all do this.
Mette Ivie Harrison
Sam Harrison
Joanna J. Smith
Chloe Patton
Morgen Nadine
Joanna Brooks
Erin Olds
Chris Wei
Birgitta Mattson
Dixie Tiffany Pierce
Kim Sandberg Turner
Mike Hansen
Zina Peterson
Leah Lewis Young
Samantha McKenzie Ellsworth
Sue Bergin
Allison Henriksen
Allan Mount
Heidi Moses
Karin Josefina Berg
Twila Newey
Jennifer Harker Limones
Shandi Hill
Dayna Kidd Patterson
Terina Maldonado
Rebecca Killpack
Cherie Pedersen
JoAnn Tyndall Larsen
Jessica Smith Jackson
Glenda Crump
Jody England Hansen
Conor Hilton
Jimmy Bridges
Holly Welker
Ben Hopkin
Mary Gwynn Longorio
Gary Longorio
Kennon Smith
Susan Van Patten Snider
Sara Vranes
Natasha Helfer Parker
Anthony D. Miller
Courtney Hill Edwards
Lori Bolland Embree
Kerri Harris-Bigler
Natalie Lewis Driggs
David G. Pace
Jessica Tatum
Max Cox
Ryan Tatum
Kelly McAffee
Lesley Butterfield Harrop
Boyd Jay Peterson
Nancy Ross
Sara Hughes-Zabawa
Lisa Warburton-Glad
Betsy Schow
Walt Eddy
Lisa Ward Linton
Sonia Groesbeck
Mary Lynn Hutchinson
Yvette Barus Zobell
Maya Kimberly Collinwood
Summer Spence
Blaire Ostler
Janna Fox
Jolene Perry
Bryce Cook
Heather Harris-Bergevin
Shauna Croft
Taylor Mefford
Lauren Neaves
Evelyn Horbarger
Jennifer Earl
Jack Waters
Tresa Brown-Edmunds
Colin S. Smith
Crew Ostler
Lori Anderson Leetham
Steve Florman
Rick and Elisa Stoneman
Rosalyn Collings Eves
Eric Canfield
Lisa Kaiser
Ashley Thalman
Amber Sorensen
Peter Brownstein
Ellie Brownstein
Matthew Peterson
Rebecca Sachiko Burton
Jessie Jo Lundell
Ronald C. Benson
Diane Holindrake Benson
Michael Austin
Laura Dickey
Kris A. Irvin
Lara Machin Canen
Sara Burlingame
Amanda Elizabeth
Kimberly Anderson
Kathy Carlston
Kelly Lake
Eric Morley
Rachel Ellsworth
Kerry Clift Spencer
Kelly Whited Jones
Kate Lloyd Martell
Heather Moore-Farley
Margaret Jones Tonks
Malena Crockett
Eric Lacey
Dynette Reynolds
Amy M. Hughes
Alisa Jane Taylor Hancock
Justin Brian Carter
Judith Dushku
Jill Templeton
Emily Davis Harris
Monica Peterson
Josh Weed
Brad Kramer
Cindi Christensen James
Carolyn Homer
Suzy Benson Gillies
Crystal Escobar
Mary Harrison
Keli Byers Money
Wagner R. Ferreira
Julie Hawkins Smith
Bill Shunn
Ana Leyendo
Amy Benson Hirano
Natasha Helfer Parker, LCMFT, CST can be reached at natashaparker.org and runs an online practice, Symmetry Solutions, which focuses on helping families and individuals with faith concerns, sexuality and mental health. She hosts the Mormon Mental Health and Mormon Sex Info Podcasts, is the current past-president of the Mormon Mental Health Association and runs a sex education program, Sex Talk with Natasha. She has over 20 years of experience working with primarily an LDS/Mormon clientele.