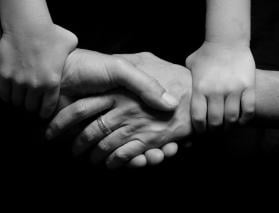 I very much appreciated these thoughts from a believing spouse and his reactions to President Nelson's recent talk discussing eternal families. The way he speaks about his wife and how he chooses to frame doctrinal teachings prioritizes relational health and allows for the humility of the "unknown." Meaning, we don't have everything figured out about the afterlife and we shouldn't treat families experiencing diversity in their beliefs like we do. These are the types of perspectives I hope many of us adopt so we can experience intimacy with others who are different from us, instead of hard-line perspectives that tend to separate and "other" us in ways that have implications (even subconsciously).
Today's guest post was written by Matt Harward. Opinions shared on guest posts may not completely reflect the positions of the blog's author.
Matt Harward and Tricia, his wife of 25 years, live in Austin TX with their four kids, a dog and 16 chickens. Matt is partner in a software consulting firm, and enjoys reading, time with family, TX barbecue, and driving fast.
This week, I heard of rumors about my mixed faith family that hurt and were both false and unkind. As I wrestle with the middle way and find there are few people who walk there, it can be lonely. But just because it is less traveled and less certain than it was before does not make it lost.

I am a believing member of the church, but I believe that God's plan of grace covers the earnest and honest efforts of my wife's journey outside the church. I believe that just like me, she continues to be led to do what is right and that she continues to follow the truths that live for her – all of which I also believe and cherish. We agree still on far more than we disagree on.

I do not think that God wants her to be miserable and to feel less than her greatest self. I believe that her path is not lost and that even though it is unfamiliar to me that does not mean that God doesn't see it and knows just how to guide her from where she is.

I believe that as I do my best to love, to lift, to do good, to be humble, to learn and to trust that God knows what I do not, then I can let go of what I cannot control and focus on being what I can be today.

None of these things have changed for me since my wife's faith perspective has shifted. They were true for me before and they are true for me now.

I am still whole. My children are still safe. My path and purpose and potential are the same. My marriage is sacred and eternal to me and I choose to honor it – which includes lifting and joyfully living where I stand. And I stand by my wife.

This is part of our journey and so I choose to enjoy the ride. We are that we might have joy. What a gift to find it in unexpected but beautiful places. I believe in, and look forward to a joyful life after this one – and I also choose to make this life a heaven now.

Love and prayers to each of you today. It is a gift to walk this road with you. I'm grateful.

-Matt Harward

---

Natasha Helfer Parker, LCMFT, CST can be reached at natashaparker.org and runs an online practice, Symmetry Solutions, which focuses on helping families and individuals with faith concerns, sexuality and mental health. She hosts the Mormon Mental Health and Mormon Sex Info Podcasts, is the current past-president of the Mormon Mental Health Association and runs a sex education program, Sex Talk with Natasha. She has over 20 years of experience working with primarily an LDS/Mormon clientele.